Who runs the world? Beyonce.
Queen Bey flaunts her incredibly toned bikini body on the cover of Shape magazine's April issue, revealing her diet secrets to the world. And get this ... she looks like that and eats pizza almost every Sunday.
"I always have breakfast, say, scrambled egg whites, a vegetable smoothie, or whole-grain cereal with low-fat milk. For lunch and dinner, I eat a lot of fish and vegetables. And throughout the day, I try to stay hydrated," the 31-year-old singer explains to Shape. "I always treat myself to one meal on Sundays when I can have whatever I want. Usually it's pizza, which is my favorite indulgence."
But although Beyonce looks fab in a multicolored, short-sleeved two-piece, the mom of 1-year-old Blue Ivy Carter admits it wasn't easy dropping those post-baby pounds.
"I didn't have a lot of time to lose the weight because I scheduled a show three months after I gave birth, which I would never do again!" Jay-Z's love, who gained 57 pounds during her pregnancy, says, adding, "I ate a very low-calorie diet. I stayed away from red meat and ate a lot of fish, replaced pasta and rice with quinoa."
Check out Beyonce's gorgeous Shape cover below: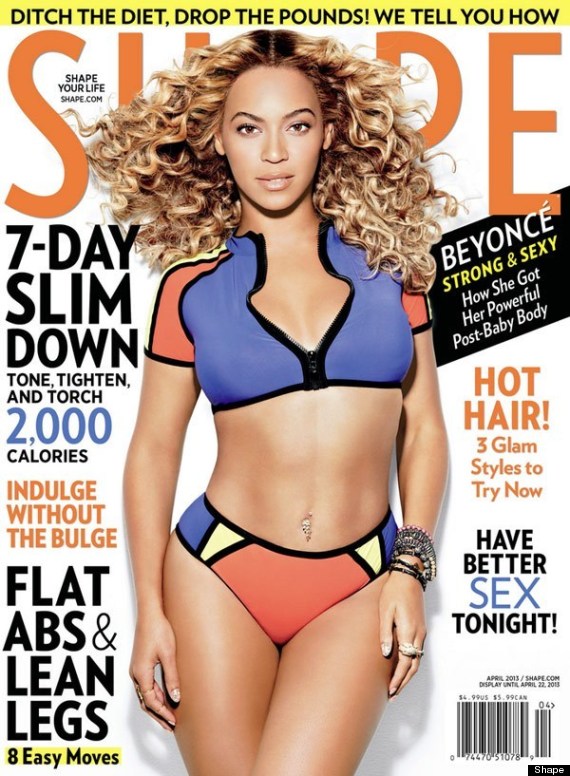 BEFORE YOU GO
PHOTO GALLERY
Beyonce's Super Bowl Halftime Show