Save for TMI Queen Jessica Simpson, Sofia Vergara is the most TMI-prone celeb in the biz. Every interview she's ever granted seems to focus on her breasts, her butt and the sizes thereof. We get it, Sofia: You've got a great body.
But leave it to Vogue to wring a few non-body conversations from the garrulous actress. The fashion mag spoke to Vergara for its April 2013 issue and managed to enlighten us about the following:
1. Sofia is unapologetic about the size of her engagement ring. "I love it," she tells the mag, "because it's big enough. If it had been bigger, I couldn't have worn it every day... And if it had been smaller, I wouldn't have liked it. It's heavy, but I don't take it off even to work out." Rock on, Sofia (ha).
3. Sofia actually plays a hands-on role with her Kmart line. As in, she sifts through the products and declares, "Thees is heeeedious. Thees is beautiful."
4. Sofia went to dental school. She's mentioned this one before, but somehow (we have no idea why!) it always gets overshadowed by... well, see below.
Sofia also talks about dressing her curvy body, something she never tires of discussing. But the best part of the interview might actually be the photo, which shows her posing glamorously in an industrial-style kitchen wearing a spotted Nina Ricci gown. Sometimes Sofia doesn't have to say anything at all to make a statement.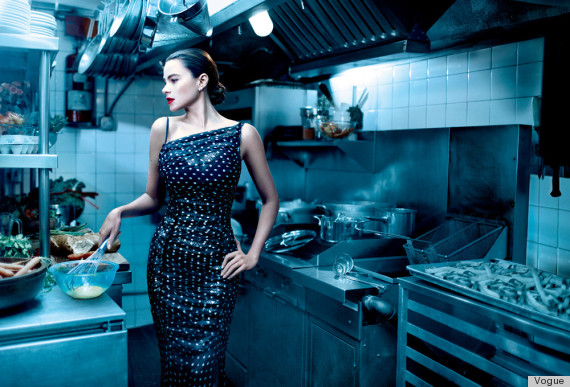 See Sofia's signature style:
PHOTO GALLERY
Sofia Vergara's Style Evolution