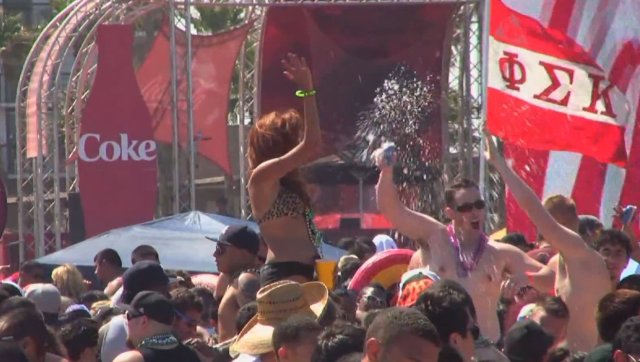 Local police and crime reporters have their hands full this month on South Padre Island, a popular spring break destination in Texas that hosts thousands of college students each year and boasts the biggest beach party in the nation.
Local affiliate FOX2 reports that authorities have recorded more than 100 arrests in the first four days of the spring break season, and ABC News affiliate KRGV reports that spare state and municipal officers from across Texas were called in to control the parties. Fire Chief Burney Baskett told the Brownsville Herald last week that he expected between 400 and 500 calls. He said most concern dehydration and too much booze.
Each of the 109 spring break-related arrests were reported before March 12, and it's not even the busy part of the season yet. More than 60,000 spring breakers were expected to arrive on the island over last weekend, and they wasted no time getting wasted. By 9:00 p.m. Saturday, police had responded to a major party area on Coca-Cola Beach and arrested five people before shutting the whole party down.
The Daily Mail reports that the party featured a zombie parade of sunburned, drugged-out, incoherent blatherers who made their way behind a stage area and packed two 16-unit mobile hospitals, which had treated 60 patients by 4:00 p.m. on Saturday.
Like visitors to Las Vegas, students who visit South Padre Island typically hope stories of their antics don't return home with them. T-shirts for sale there read, "Don't tell Madre what happens at Padre," according to The Daily Mail. And like Las Vegas, the town has a dubious position near the top of Coed Magazine's 2013 list of the trashiest spring break destinations.
The online magazine notes that while the small island has only four liquor stores, two tattoo parlors and no Hooters Restaurants or strip joints, students get trashy relying only on barrels of booze and lax public drinking laws.
"If you don't feel like taking part in the ready-made ragers, starting your own is as easy as throwing a keg in the sand. SPI is one of the few locations where alcohol is legal on the beach," says Coed.
BEFORE YOU GO
PHOTO GALLERY
Coed Magazine's Trashiest Spring Break Destinations