A 92-year-old Cincinnati woman reunited on Sunday with one of her dearest friends from her childhood, whom she hadn't seen in over 60 years -- who just happened to be a gorilla.
On Sunday, Winifred Hope Smith shared one more memory with Bushman, the once-world famous gorilla who died in 1951 and is now on permanent display at Chicago's Field Museum, ABC Chicago reported.
The daughter of Presbyterian missionaries, Smith and her family cared for a young, orphaned Bushman when they lived in Cameroon, West Africa in the late 1920s. The small gorilla was a 9-year-old Smith's beloved pet, according to the Chicago Sun-Times, and lived in a cage behind her family's home.
"He spent the day with us. We took him everywhere," Smith told the Sun-Times of the relationship she and her older sisters shared with the young gorilla. "It was an awful lot of fun."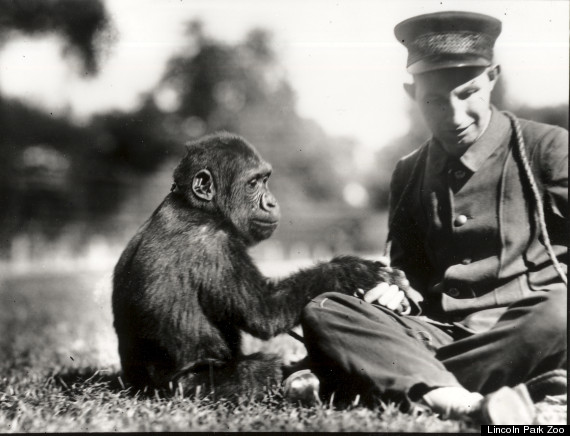 A young Bushman. (Photo courtesy Lincoln Park Zoo.)
About a year after Bushman began staying with the Smith family, the gorilla was sold to the Lincoln Park Zoo, where he went on display for two decades, the Chicago Tribune reports, and once earned the distinction of "the best known and most popular civic figure in Chicago" by Time magazine, WBEZ previously noted.
As the Tribune previously reported, Bushman became an international attraction not long after he arrived in Chicago as gorillas were still a rare sight in America at that time. He became well known for being temperamental at frequent photographs taken of him, throwing food and his feces at onlookers. When he was said to be dying, about 120,000 people flocked to the zoo to catch a glimpse of him on one June day in 1950.
Prior to Bushman's 1951 death, Smith visited the gorilla, who then weighed in at around 550 pounds, at the Chicago zoo while on her honeymoon during the 1940s. She said she didn't like the look of her old pal in a cage.
"I loved him. He was my sweet little boy," Smith told the Tribune Sunday.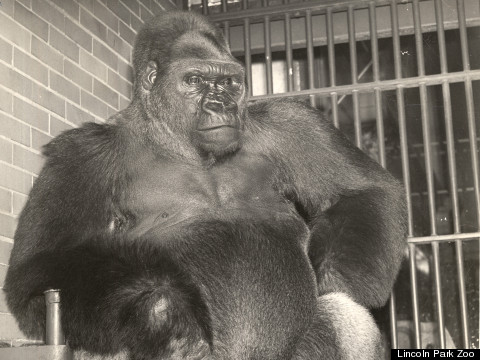 BEFORE YOU GO
PHOTO GALLERY
13 Awesome Animal-Human Reunions