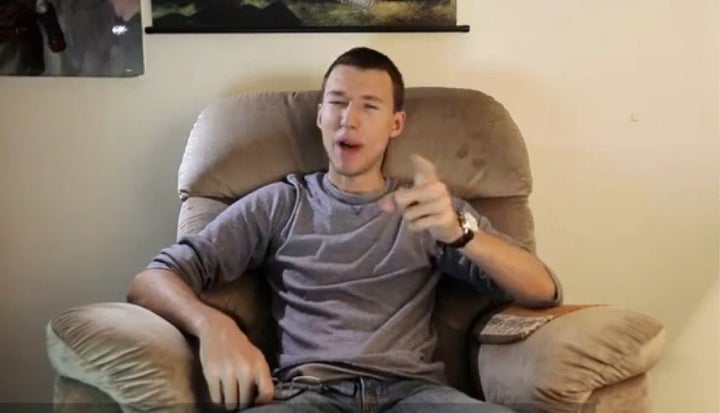 Nick Bertke, aka Pogo, is an Australian mashup artist who has a major beef with the American visa system. Back in 2011, the then-touring musician was banned from the US for traveling without the proper work and travel visa. The punishment -- jail time, deportation and a 10-year sentence of prohibited travel to the US -- is now keeping Mr. Bertke from pursuing his career as an artist in what he claims is "the last place on earth I wanted to be banned from."
Pogo is now working to rescind the ban, soliciting advice on YouTube after initially approaching lawyers and embassies. Here's what the official petition has to say:
It is not in the United States' interest economically nor culturally to ban artists from entering the United States, simply because they have failed to file the correct paper work. A 10 year ban is unjustifiable for such an offense committed. We risk losing the economic and cultural benefits that international artists, like Pogo, bring by visiting the United States.
Now, we know Pogo is not without blame -- the Visa Waiver Program clearly states on its website that visitors "may not be paid by any source in the U.S." while traveling in the country. But the situation does provide a new angle on the present visa and immigration debate.
What do you think, readers? Is a 10-year ban justified for an artist? Let us know your thoughts in the comments.
Vatican Will Set Up Shop At 2013 Venice Biennale: Yes, that's right, the Holy See will have its own pavilion at the Italian art fair. "The theme should be concerning the First Book of Genesis: from creation to the Tower of Babel." (Bloomberg)
Thomas Cole Painting Causes Controversy In New York: A Thomas Cole painting has removed from the Seward House Historic Museum after the Fred. L. Emerson Foundation deemed the piece too valuable to be left without proper security. How are people reacting? "This is like the Louvre giving away the Mona Lisa," said Michael Botwinick, director of the Hudson River Museum in Yonkers. (The New York Times)
A New Generation Of Young British Artists?: "The common factor, perhaps, is that all these young artists grew up with the internet. It's inside them. Because of that, they have a particular attitude to the way images and objects are made, dispersed and distributed." (The Guardian)
Art Basel Hong Kong Plans For New 'Encounters' Section: The space will allow exhibitors to display "especially large-scale works." We're intrigued. (Gallerist NY)
And This Bus Driver Is A Pretty Amazing Artist: Who needs a brand new canvas when there are dirty car windows at your fingertips? (The Daily Mail)
PHOTO GALLERY
Best Music Videos of 2012