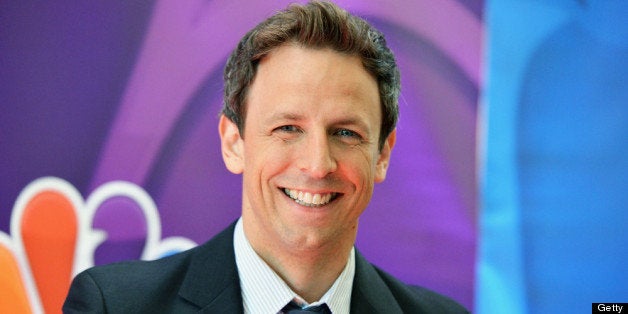 Last week, Tina Fey told HuffPost that when Lorne Michaels retires, "Saturday Night Live" should end. On Monday night during a discussion with New York Times reporter Bill Carter, Seth Meyers told a packed house at 92Y that he agrees with Fey's assessment.
"I don't think the show can go on without Lorne," Meyers said when an audience member asked him what would happen were the longtime executive producer to leave the show.
Meyers, an 11-season veteran of the show who is currently head writer and Weekend Update anchor, expanded that Michaels' prowess lies not only in running the show, but in network relations that would be impossible to duplicate.
Michaels has been the executive producer of "SNL" since the show launched in 1975, minus five years in the '80s that are often seen as a low point in the history of "SNL" (despite introducing the world to Eddie Murphy).
When Carter asked Meyers about his own future post-"SNL," Meyers said he would not take hosting jobs on "Jeopardy!," "The View" or Keith Olbermann's old spot on Al Jazeera. But he was less direct in refusing Jimmy Fallon's "Late Night" perch, which is rumored to be vacated soon if Fallon moves to 11:30.
"Nobody could do that job as well as Jimmy Fallon," Meyers said of his NBC colleague. He added that the nature of show business is so ephemeral that it is unwise to get hopes up over any one job.
"I could say I want the Al Jazeera job, but it doesn't mean I'm going to get it," he joked.
BEFORE YOU GO
PHOTO GALLERY
'Really!?!' on SNL's 'Weekend Update'