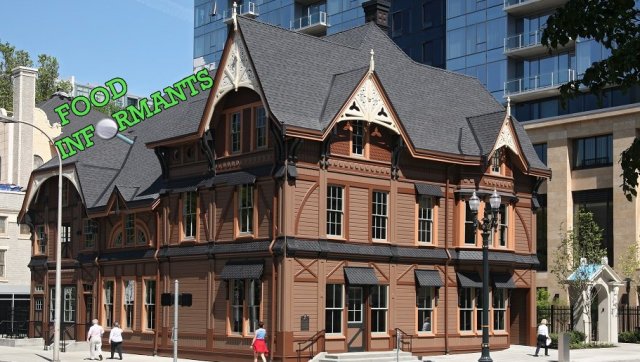 Food Informants is a week-in-the-life series profiling fascinating people in the food world. We hope it will give you a first-hand look at the many different corners of the food industry. Know someone who would make a great Food Informant? Tell us why.
Raven & Rose Chef David Padberg is a veteran of some of Portland, Oregon's greatest restaurants. Beginning his career as a pastry chef in Kansas City, he quickly moved up the line. In short succession, he trained with James Beard Award winning chefs, at a Swiss chalet, and with Wildwood's Cory Schreiber, developing his palate and skill with seasonal ingredients. In 2003 Padberg became the opening sous-chef at clarklewis. In 2004 he was hired by Park Kitchen's Scott Dolich as Executive Chef, where he was known as "One of the great forces that moved Park Kitchen forward."
Now at the recently-opened Raven & Rose, Padberg's menu reflects both the history of the 1883 Ladd Carriage House as well as the traditions of rustic cuisine -- taking inspiration from both early American farmhouse cooking and the culinary traditions of Ireland and the British Isles.
Read more about how David structures his days in a new kitchen.
Sunday, March 3
4pm: Sunday dinner service starts an hour earlier than normal. This marks the official end of our "soft opening" phase. The restaurant is now open seven days a week, and I've been working seven days a week for a little while now. I spent the last half of February hiring and training staff to extend our hours of operation. One of my lead cooks has been promoted to the rank of sous chef, and he will be expediting dinner service on Sunday and Monday nights. I will be training him on the timing and language of expediting to our cooks and servers.
10pm: Many of our farmers and ranchers use email to post harvest reports. I begin placing orders for deliveries throughout the week.
Monday, March 4
7am: My alarm goes off and I have a cup of coffee and toast before gardening on a sunny winter morning. I enjoy growing many of the forgotten herbs and vegetables I like to use in the kitchen, old friends with forgotten names like lovage, costmary, burnet, anise hyssop and red veined sorrel. Because my backyard has a small wooded grove, I have cultivated wild herbs too, like woodruff, wood sorrel, claytonia and chickweed. The first shoots of rhubarb and green garlic are peeking out of the earth, and my cardoons (pictured) have recovered from late autumn cuttings.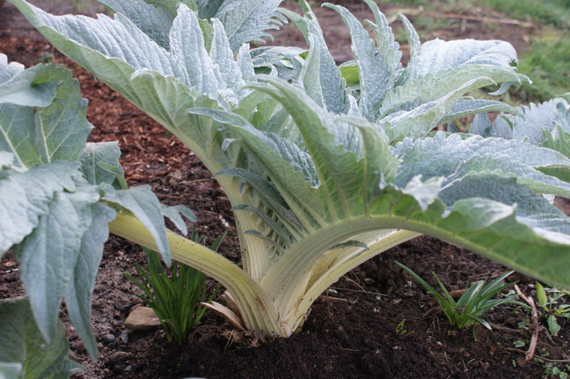 9:30am: Riding my bike into work on sunny days is seven miles of joy. I check in deliveries and get the kitchen started.
11am: I send off some emails to Farm to Fork Events, and fellow chef Aaron Woo of Natural Selection to begin planning the logistics of a rafting and outdoor dinner series this summer. This July, we are coordinating a six day, five night raft trip along the Salmon River in Idaho, each night pulling onto the beach to a four course wine dinner with Argyle Winery. Last year we did a similar trip on the Wild & Scenic Rogue River. It was such a blast, we decided to take it further this year.
1:45pm: The line cooks arrive to start preparations for dinner service. I meet with each of them to talk about special ingredients or changes, and discuss our strategy for the day.
3:30pm: Time to start up the wood fired oven and start happy hour. By 4:30, we are putting the first chickens on the rotisserie for dinner service. Our dining room is open from 5 to 10pm, while the bar stays open until midnight.
9:45pm: As the last orders are taken in the dining room, cooks start putting away their products and cleaning the kitchen. Prep work for the day is stored and labeled, orders for the next days projects are collected and suppliers are called. Depending on how late the last diners order food from the kitchen, we finish cleaning around 11:30.
Tuesday, March 5
10am: I tasted the last of the wine samples from Anam Cara to plan a special Saint Patrick's Day wine dinner at the restaurant. Instead of the same old corned beef and cabbage dinner, our main course will feature Anam Cara pinot noir with a rare venison roast rubbed with leek ash and juniper, served on a bed of drunken lentils.
11am: Jake Reister arrives with my whole lamb delivery. He and his wife raise pastured lamb in Washougal, just on the other side of the Columbia River. We use the leg and loin chops for an entrée, and grind the shoulder and trimmings into a lamb meatball appetizer that is cooked in our wood fired oven.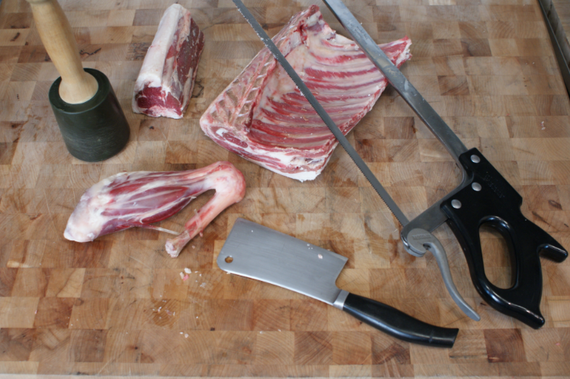 2:30pm: After the kitchen staff arrive and start cooking, I make some calls to order new equipment for the restaurant. I have decided to change our chicken program to a local rancher growing Cornish hens ranging from 1 1/2 to 2 pounds. These are a little smaller than the chickens we are using now, and will require a different kind of spit, but the quality and ranching practices are worth it. I will be able to get more versatility out of these spits too, so we can cook different meats on the rotisserie. Next, I call a woodworker who is making maple boards for serving our charcuterie and cheese plates in the second floor bar.
6pm: Just an hour into dinner service, the kitchen gets bombarded with orders for the theater crowd. The restaurant is located in the downtown entertainment district, so our first seating can fill the restaurant with hurried diners on their way to the show.
Wednesday, March 6
8am: We finally got approval to hang our sign on the building. Because it is a historic building, we have to apply for any changes to the exterior of the structure. Still no mailbox. Today also marked the first cleaning of the grease trap. This is not an enviable job, but at least we are able to recycle all our fryer oil into biodiesel.
10am: I give Joe a call to order rabbits and Cornish hens for Friday delivery. Joe usually gives me an idea of how many rabbits or chickens will be available, but cold weather can change breeding habits and muscle growth. He sells me what he can, not always what I want. Then I get a call from Sheldon. He and his wife Carole own Your Kitchen Garden, a small farm just outside of town. He is my primary produce farmer, managing to keep a list of over fifteen great crops going all through the dead of winter, a rare accomplishment in the Pacific Northwest. The diversity and high quality of his harvest is second to none I know.
10pm: As dinner service winds down, I try to finish my recipe testing for new dishes on the menu tomorrow.
Thursday, March 7
7am: Gearing up to ride my bike into work, heavy rain and wind this morning, so I have to suit up in my raingear. I usually try to get in to work early on Thursday. This is the day I designate for printing new menus, and consequently, new dishes move from being specials to being regular offerings on the menu.
2pm: I begin stocking the stations with the components for new dishes, and brief the cooks about the ingredients and the sequence of making the dish. Today we are adding five new dishes to the menu.
4pm: The kitchen plates up all new dishes for the service team to taste. They take notes on ingredients and product origins.
9pm: A surprise visit from fellow chef Jason French, owner of Ned Ludd, drops in for dinner close to the end of service. I sit down with him and share a few plates and stories and catch up on recent adventures.
Friday, March 8
9am: Judy drops off a half cord of firewood for the wood oven. We store most of the wood in a crawl space under the building, while smaller amounts get chopped, split and stacked by the oven, ready for use.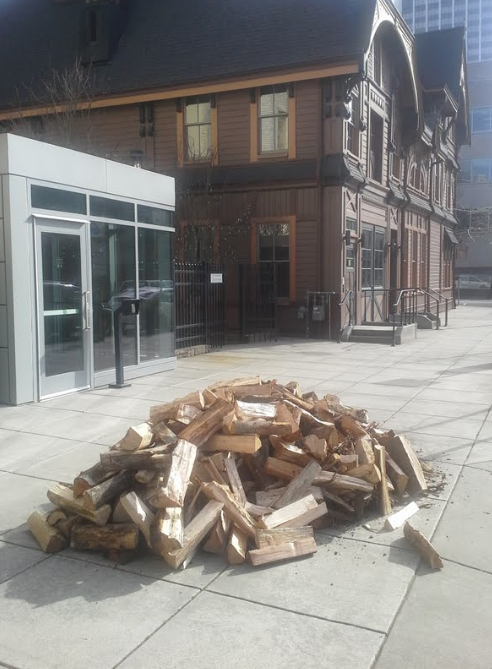 9:15am: Sheldon arrives from Canby. When we open his waxed cardboard boxes, his produce is pristinely arranged in perfect bunches and rows, like an art project. It always brings me joy to see such beautiful vegetables.
10am: The prep cooks arrive and start their projects, scrubbing and debearding mussels, grinding sausages and baking pork terrines, making and rolling pasta, scaling and shaping pizza doughs. I start typing up recipes for the new dishes, and making plans for the following weeks changes.
4:30pm: My parents arrive in Portland for a visit. My father has just retired, and I haven't seen them in over two years. They play billiards upstairs while they wait for me to join them at a table for dinner.
7:15pm: I finally get to sit down with the folks and my fiancée. Mom loved the nettle soup, dad loved the beet salad and the rabbit two ways. After dinner, I check in with my sous chef to discuss purchasing for the weekend.
Saturday, March 9
10am: I have a meeting with David Shenaut, the bar manager. We are making a shrub for him to use at the bar. Shrubs are old fashioned fruit and vinegar drinks that are making a resurgence in the American cocktail landscape. This shrub is made with medlars, a forgotten tree fruit from the rose family. I like to think of them as a cross between rose hips and crabapples. They were once very popular in America, but have become lost in time. They have to be bletted before they can be eaten, meaning they become fully ripe and mushy, and they turn from astringent to sweet, rich and musky. The shrub is then used to make a seasonal cocktail called "As You Like It," after the Shakespeare play in which he describes the virtues of the medlar.
11am: Meeting about ceramics we plan to order for our Sunday roast, large platters of carved meats with a choice of side items.
12pm: I spend a little time planning for a research trip to England and Ireland to explore the culinary traditions of the farmhouse inns and taverns of the British Isles.
2pm: Timothy Wastell starts his last day in the kitchen. He has been a pleasure to work with in the opening of Raven & Rose. Now, he will be embarking on his own adventure as the chef of a new restaurant opening in May. We wish him well.
See more Food Informants below:
PHOTO GALLERY
Food Informants