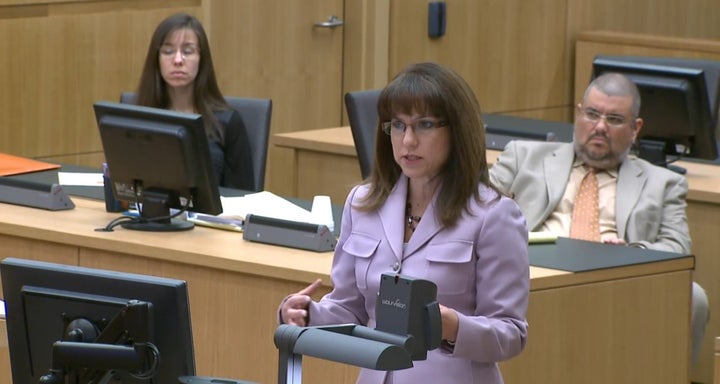 Jodi Arias' murder trial was delayed Wednesday when a spectator became ill and vomited in the gallery.
The unidentified spectator threw up as the trial in Phoenix was about to resume from the afternoon recess, prompting the judge to end the trial for the day. There were no details about the person's illness.
The long-running trial will resume Thursday, when the first defense expert witness, psychologist Richard Samuels, will face questions from the jury. Arizona is one of three states that allow jurors to pose questions to witnesses after prosecution and defense lawyers have finished their questioning. Arias' defense attorney, Jennifer Willmott, wrapped up her examination of Samuels on Wednesday, giving the 12 jurors and six alternates -- seven women and 11 men –- their first opportunity to put questions to the defense expert.
The jurors' questions and Samuels' answers may prove pivotal to Arias' fate. She faces the death penalty if convicted.
Arias, 32, is accused of the June 4, 2008, slaying of her ex-boyfriend, Travis Alexander, 30, inside his Mesa, Ariz., home. The prosecution contends Arias stabbed Alexander almost 30 times, shot him in the head and slashed his throat in a jealous rage. Arias told jurors she killed Alexander in self-defense during an argument over a dropped camera that followed his escalating sexual demands.
Willmott, wrapping up questioning of Samuels on Wednesday after four lengthy days, went into great detail about Arias' answers on a psychological test for post-traumatic stress disorder.
Samuels said all the information he gathered on Arias, including her test results, support a diagnosis of PTSD. Samuels also said the condition likely explains why Arias has holes in her memory of the night she killed Alexander -- gaps exposed repeatedly by the prosecutor during his aggressive cross-examination of Arias.
"What were her feelings after she told you what happened" on the day of the killing? Willmott asked.
"She said she was very relieved as if a great weight had been lifted," Samuels replied.
"Did she repeat that to you several times?" asked Willmott.
"Yes, she did," Samuels said.
The trial is scheduled to resume at about 1:30 p.m. Eastern time on Thursday, when jurors' questions will be presented to Samuels.
BEFORE YOU GO
PHOTO GALLERY
Jodi Arias Timeline