A European sensibility has proved extremely valuable for Union Brewery LLC, owners of Royal Oak's Bastone. So much so that the owners are opening a second Belgian-inspired eatery in their building on Main Street and Fifth Avenue.
About nine years ago, when the brewery's partners first focused on Royal Oak, "there was a big void in Belgian beer," said David Ritchie, Union's operating partner. "It really hadn't been done in that area -- a brewpub making Belgian-style beers. And the restaurant really grew out of the idea of the beer and finding a menu to match."
Bastone, Ritchie said, combined the classic American image of a brewpub with meals that riffed off European-style bistro classics. "It shows the Belgian influences, but brings in French and German, as well."
The new concept is a "Belgian beer abbey" they're calling Monk -- an homage to the monasteries where the nation's celebrated beers were traditionally brewed. Clubby, wood-paneled walls, lantern lights and 10-foot ceilings will mimic classic European monastery design. The chef will turn out burgers, waffle sandwiches and Belgian-style mussels and frites. And, in addition to Bastone's homebrewed beers, Monk will feature an extensive bottled beer list.
"At Monk, we're looking for the person that really loves beer and wants to learn more about beer," Ritchie said.
Monk will occupy the space that housed the Cuban-flavored Cafe Habana for the past nine years, after Union Brewery decided to streamline their business model and close the restaurant. Ritchie said the decision to shutter Cafe Habana in February wasn't due to sales.
"We've just decided to move forward with our plan to strengthen the Belgian theme that Bastone Brewery was built on," Ritchie said.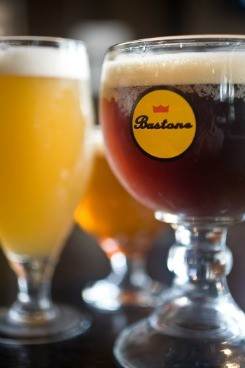 That's not the only major change coming from Union Brewery. A total $300,000 renovation this winter will expand Bastone upstairs into the building at 419 S. Main St., which the brewery also owns. A former office suite upstairs will become private event space and a new lounge area for the sophisticated eatery, where mussels, pomme frites and glasses of beer are served alongside bistro fare like pastas, salads and a wine list. Next door, Vinotecca will debut a new menu.
Downstairs from Bastone, Commune lounge will become Craft, a lounge featuring more craft beers and cocktails, alongside the bar's popular absinthe offerings.
"When we think about a nightclub," Ritchie said, "Every four years, it seems to run its course." The space was originally opened by the partners as Cinq and closed four years ago to reemerge as Commune.
Unlike Monk and Bastone, Ritchie said, most of Commune's changes will be thematic or cosmetic: a new menu of drink offerings, new lighting, wallpapering the space and building a new stage. For the first time, Commune will feature live music on Wednesday and Thursday nights. On Friday and Saturday, Craft will still feature DJs.
"The dance club is really popular and has always worked really well," he said.
By mid-April, the makeover at Fifth and Main will be fully complete, but Ritchie said he has yet another project in the works --Jolly Pumpkin Artisan Ales, which owns breweries in Traverse City, Ann Arbor and Dexter, is hoping to open a proposed fourth brewery, in downtown Royal Oak.
CORRECTION: Commune Lounge is still open while the transition to Craft approaches. An earlier version of this article said it was closed for renovations.
BEFORE YOU GO