Patrick Vale first stirred up the internet with his viral time-lapse video "Empire State of Pen," in which he seemingly sketched nearly every windowpane, fire escape, and yellow cab in the New York City skyline.
Now Vale is back to work, penning all the nooks and crannies of four major cities with his first solo exhibit in London, titled "City Lines."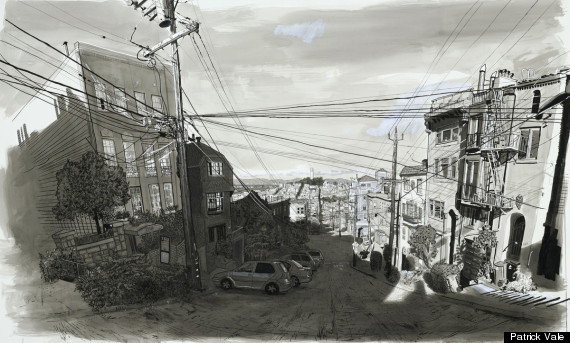 After Vale picks a bustling view, he draws quick sketches and snaps a few photos for later reference. "When I'm back in the studio, I like to draw in the same way as if I was on location, so I draw quickly using an energetic loose line. I'm not that fussed about everything looking perfect," he told the Huffington Post in a previous email interview.
"City Lines" shows Vale's sketches of New York, Los Angeles, San Francisco and his current home, London -- all locations that allow him a birds-eye view of an urban landscape in all its complexities.
Scroll through the slideshow below to see how some of your favorite cities come to life in Vale's sketched cityscapes.
PHOTO GALLERY
Patrick Vale's 'City Lines'
"City Lines" runs from April 4 - 12 at Coiningsby Gallery in London.