There's an old Jerry Seinfeld joke about a laundry detergent that can get blood out of clothes.
"I think if you've got a T-shirt with a bloodstain all over it," Seinfeld quipped, "maybe laundry isn't your biggest problem."
And thus we introduce you to the Kaventsmann Triggerfish Bronze A2, a wristwatch that can sustain the impact of 10 pounds of C-4 exploding just feet away from it. We don't suppose that "bombproof" is one of the key selling points of the Triggerfish, but if it is -- well, if you need a wristwatch that can survive a C-4 explosion, then maybe finding the right wristwatch isn't your biggest problem.
Anyway, the German watch designer Kaventsmann (actually just a one-man shop in Berlin, according to Gear Patrol) wanted everyone to know just how impervious its watches are to even the mightiest crashes and falls. So, Kaventsmann shipped a few Triggerfish Bronze A2 models to the U.S. Special Forces and had them attempt to blow up the watches with 10 pounds of the plastic explosive C-4.
The crew strapped the C-4 to a metal pole and then placed the watch about three feet away in the dirt. After they were a safe distance away, they detonated the C-4.
Here are a couple photos of the results, via Kaventsmann's Facebook page: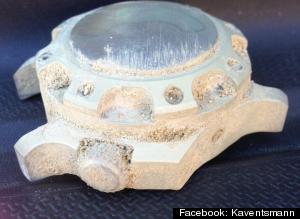 First test.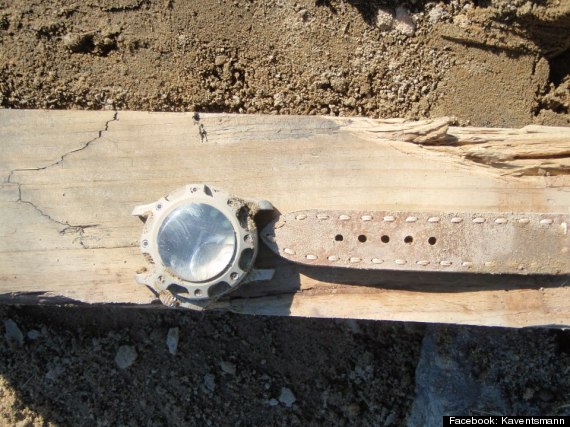 Second test. One of the straps was blown clear, but the watch remained in tact.
If you find yourself in need of a bombproof watch for any reason, you better act fast: Kaventsmann hand-makes its watches and is only hand-making 30 Triggerfish Bronze A2s. It appears that only 15 are available as of right now. No price is listed, but the Daily Mail reports that one watch will set you back 1,600 euros, or about $2,071. You can find out more, and perhaps place an order, on the Kaventsmann Facebook page.
BEFORE YOU GO
PHOTO GALLERY
7 Things We Want To See Invented In 2013