The latest wacky computer experiment from Google? Yeah, it's a-mazing.
The ever-busy tech giant has launched World Wide Maze, a funky interactive game that turns any website into a 3D maze that you must navigate a marble through using a smartphone as a controller. The game is specially-made for Google's Chrome browser and if you want to get the full experience, you have to download Chrome for both your desktop and your smartphone and then sync the two together so that the game works on both devices.
That may sound a bit confusing, but it's really quite simple once you get going. Google Chrome Japan has created a video that shows you the basics of gameplay.
Get it? Sync your smartphone and desktop and search for any website your heart desires. Google will render it into a 3D maze with little crystals you must attain on your path to the finish line; just tilt your smartphone to control the direction of the marble. You'll need iOS 5 or above or Android 4.0 or above in order for the game to work; I was able to get it running on both an iPhone and Nexus 4 here at the HuffPost offices, where I have been bothering my coworkers for the last thirty minutes with my giggling and squeals of delight.
To try World Wide Maze at your own home (or office), you can visit chrome.com/maze. You will need to download the Google Chrome browser for either iOS or Android; you can download the iOS version here, or the Android version here.
Once you've done that, you can marble-maze your day away. Might I suggest a game of World Wide Maze on the Huffington Post homepage?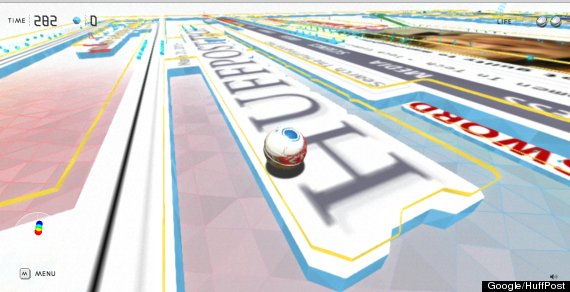 BEFORE YOU GO
PHOTO GALLERY
Best Google Perks