Oh, celebrity gossip. A fickle beast, this one. On the one hand, most celebrities owe most of their fame to the careful documentation of their every move. On the other, when sites, tabloids, and papers need to sell, even the tiniest detail can make headlines. Case in point: Kristen Stewart and Robert Pattinson's reunion Tuesday night.
We'll explain.
As all Twihards know, KStew and RPatz have been on the outs or at the very least apart for the past couple of months due to Pattinson's film commitments (he was on set in Australia). Since Stewart's cheating scandal this summer, it was easy for all to assume their time apart also meant they were taking time off from their relationship.
SCROLL FOR PHOTO
When Pattinson headed back to the States this week, speculation arose as to whether or not the two will get back together, would he head right over to meet her and all the burning questions humanity rightfully deals with. Then, unexpectedly, a photo of the two of them surfaced -- not a paparazzi shot per usual, but rather an innocent Instagram photo one young lady uploaded to Twitter of her friend and the two stars. And people went nuts.
This morning, the photographer -- Laura Austin -- took it upon herself to explain what went down so as not to cause any confusion. She called it an interesting social experiment, and judging by her story it seems pretty accurate.
Apparently, Austin was at her local karaoke dive bar in Los Angeles, Ye Rustic Inn, when she spotted KStew and RPatz. She says she's not a "Twilight" fan, but definitely knows what they look like. When her friend Lany Morrison, who is a fan, asked to pose with the two, Austin happily snapped the shot.
What followed was a media frenzy where most outlets stitched together complete stories to make sense of the two A-listers posing together. Some said they were making beautiful music together (Austin says she never heard them take the mike, despite it being a karaoke bar). Others said they were "touchy feely," which might have come from a different eyewitness, as Austin writes she did not see any such behavior.
She does say they were perfectly nice, and that Pattinson wasn't too thrilled about the shot which prompted a giddy Stewart to call him an "asshole" and tell him to get in the picture. Which is pretty funny, but it definitely doesn't imply anything about their togetherness status.
So there you have it, folks. Straight from the horse's mouth, as Austin says. It was an interesting experience for her, and one we should probably learn from. As for KStew and RPatz's relationship, we'll settle for "friendly." That's good enough for us.
The photo that stirred the pot: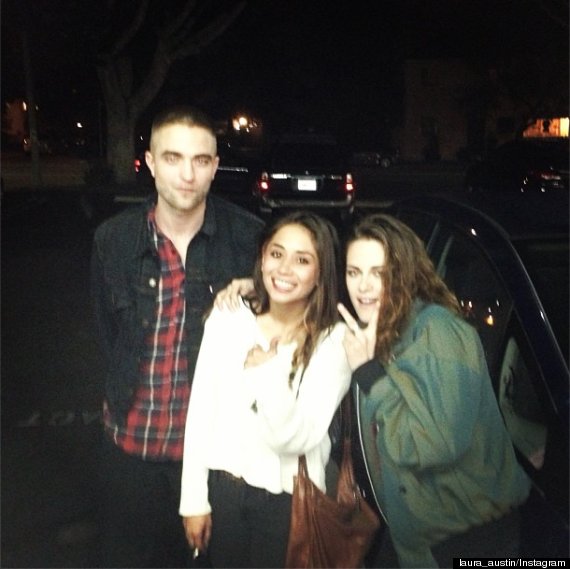 BEFORE YOU GO
PHOTO GALLERY
Kristen Stewart & Robert Pattinson