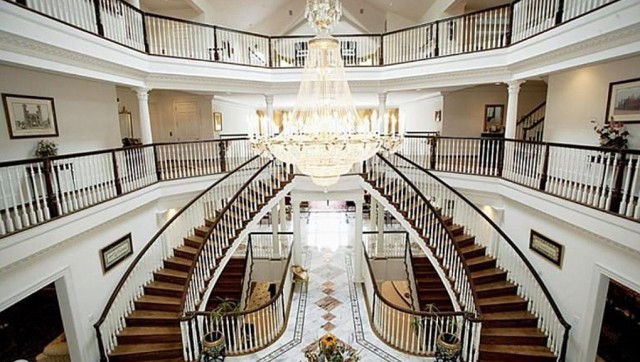 A house robbery doesn't normally involve the house itself being stolen.
The Washington Post reports on the strange case of Lamont Butler, who found a $6 million mansion for sale in the D.C. suburbs, and decided to move in:
But the personable 28-year-old, known to wear a red fez, didn't own the mansion; he had simply slipped inside and claimed it. Taking part in an odd and perplexing phenomenon popping up in cities across the country, Butler said the Bethesda mansion belonged to him because he is a Moorish American National. He'd drawn up paperwork that he said proved it all, with references to a 1787 peace treaty and the Vienna Convention on Consular Relations.

Montgomery County police call Butler's stay in the mansion, which lasted only a few hours, something entirely different from a legitimate claim: breaking and entering, fraud and attempted theft. They say it is one of the most audacious local cases in what law enforcement officers called a growing national trend where self-
described "sovereign" nationals try to move into homes they don't own.
The Post details a host of similar, similarly odd cases of Moorish American house claimings from around the country in its excellent story, which you can read here.
And how about the grand home that inspired this most recent incident?
Here's the Zillow listing for the 12 bedroom, 17 bath mansion -- which also has 49 closets, six kitchens, a beauty parlor and an indoor pool -- at 7013 Natelli Woods Ln, Bethesda, Md.
Story continues below...
PHOTO GALLERY
7013 Natelli Woods Ln., Bethesda, Md.
DC Utban Turf gave some history, in its 2010 blog post about the house going on the market -- then for $8,999,999:
The 35,000 square-foot mansion sits on just under five acres spread over two lots. The home was built in 1995 by Rashid Chaudhary, a cosmetics manufacturer, so that his four daughters could attend school in Northern Virginia. Now that his children have completed school, he is heading back to Chicago where his business is located.

The property took three years to design and build, and has hosted the Clintons and Gores at a number of functions. Al Gore even planted two trees in the backyard. The owners named the estate Haveli, which means "Gathering place for important people."
"It's perfect for entertaining," Jordan Fainberg of Long & Foster told the Washington Post in 2012, when the property had already been on the house for some two years -- and was listed for $6.9 million. "It's got incredible flow." (Fainberg said nothing about the hustle.)
Zillow's most recent "Zestimate" for the mansion is $5,558,638, which is less than the the house is now listed for after these years on the market -- $5,999,999 -- but is still quite a bit more than its last occupant thought he should spend.
BEFORE YOU GO
PHOTO GALLERY
Drugs Hidden In The Darndest Places