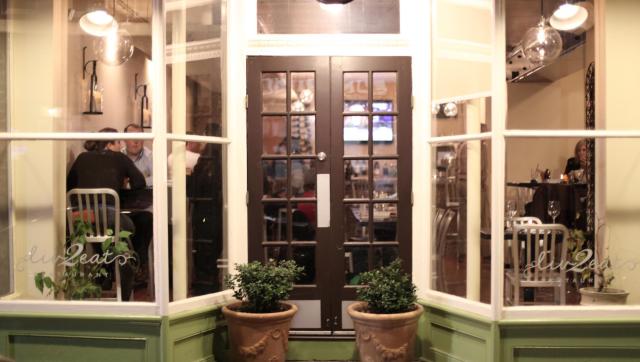 Who had whom in a headlock is the focus of a dispute between a Baltimore chef and a diner.
The parties in the argument are Kevin Perry, the chef and co-owner at Liv2Eat, a restaurant in the Riverside neighborhood of South Baltimore, and Wesley Doyle, 42, of Baltimore, who was dining at Liv2Eat on Friday with his wife and their two children.
Perry, who is 34 and lives in Annapolis, and Doyle have filed criminal complaints, each charging the other with second-degree assault. Perry also charged Doyle with reckless endangerment and affray, which is similar to disturbing the peace. All are misdemeanors. A trial is scheduled for April 23 in Baltimore City District Court.
Both sides' accounts of the events leading up to the disputed headlock are similar.
They both acknowledge that the Doyle family wasn't having a good time at Liv2Eat on Friday night, and both agree that there were two confrontations about slow service between Doyle's wife, Claire Mullins, and Perry's wife, Cecilia Benalcazar, who is the restaurant's co-owner and manager.
Both sides also agree that the second time Mullins approached Benalcazar to complain, she was headed with her family toward the restaurant's exit, which is within earshot of Liv2Eat's open kitchen.
That's when, both sides agree, Perry told Mullins in not-so-nice terms to leave his restaurant. Both sides say that Perry shouted obscenities at Mullins.
It's what happened next that's in dispute.
According to an account circulated via email by Mullins and later posted on a neighborhood listserv, when her husband "intervened in an attempt to get [Perry] to settle down ... [Perry] jumped out of the kitchen and attacked Wes, in front of our kids and a restaurant full of patrons, putting Wes in a headlock."
Benalcazar disputed Mullins' version of events, saying Doyle walked into the kitchen and went after her husband, putting Perry in a headlock.
"Their account is completely false," Mullins said. "My husband was attacked in a restaurant that we went to with our children."
A police report from that night indicates that Doyle told the responding officer "that after a dispute over food the cook ... grabbed [Doyle] in a head lock. Several customers broke up [the] fight. Neither individual was hurt."
Benalcazar said the story will be told more fully next month.
"Both our sides will be heard in court," she said in an email to The Baltimore Sun. "It is very easy to believe everything you hear but rumors run [rampant], as they usually do."
richard.gorelick@baltsun.com
twitter.com/gorelickingood ___
BEFORE YOU GO
PHOTO GALLERY
Weapon Of Choice