Approval of same-sex marriage among young adults is at an all-time high, according to new findings from the Pew Research Center.
The poll found 70 percent of adults born in 1981 or later, often referred to as millennials, support marriage equality. That's up from 64 percent in 2012, and an increase from 51 percent since the inauguration of President Barack Obama in 2009. Slightly more, 74 percent of millennials, say they believe gay and lesbian individuals should be accepted by society, while 22 percent disagree.
By contrast, 49 percent of people in Generation X (adults born between 1965 and 1980) support same-sex marriage, and only 38 percent of Baby Boomers (born between 1946 and 1964) are in favor, according to Pew. Overall, a plurality of 49 percent of Americans are in favor of allowing gays and lesbians to marry.
Pew's findings are consistent with another poll out this week from ABC News and the Washington Post, which found a record high of 81 percent of people ages 18 to 29 support gay marriage, while 58 percent of all adults supported LGBT marriage rights.
Pew points out millennials are part of the reason the overall number keeps climbing. Over the past 10 years, the millennial proportion of the U.S. adult population increased from 9 percent to 27 percent.
Previous Public Religion Research Institute data shows millennials are not only more likely to support same-sex marriage rights, but nearly 4 out of 5 favor laws to protect LGBT individuals against job discrimination.
People with a college education are also more likely to support LGBT rights, according to Pew. Seventy-six percent of people who graduated college say same-sex couples should be treated legally the same as straight couples.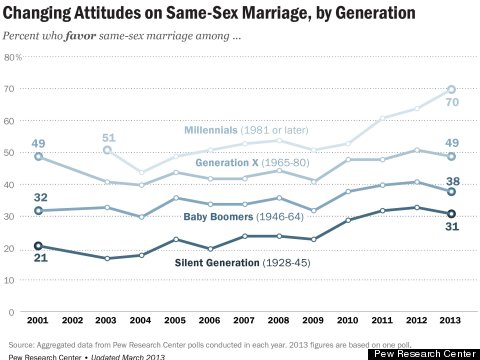 CORRECTION: A previous version of this article referred to Public Religion Research Institute data as coming from the Pew Research Center.
BEFORE YOU GO