Jurors in the Jodi Arias murder trial Thursday will finally get their chance to question the defense expert who claims arias suffers from post-traumatic stress disorder.
Judge Sherry Stephens announced Wednesday that the jurors have submitted dozens of questions they want put to psychologist Richard Samuels on their behalf. This process will begin when testimony resumes in the Arizona courtroom.
Arizona is one of three states that allow jurors to pose questions to witnesses after prosecution and defense lawyers have finished their questioning. Arias' defense attorney, Jennifer Willmott, wrapped up her redirect examination of Samuels Wednesday, giving the 12 jurors and six alternates -- seven women and 11 men –- their first opportunity to put questions to the defendant.
The defense and prosecution began reviewing the jurors' questions Wednesday afternoon. Judge Stephens was expected to begin asking Samuels the questions after the afternoon break, however the trial was recessed early when a spectator became ill and vomited in the gallery. There were no details about the person's illness.
The jurors' questions and Samuels' answers could prove to be a defining moment in the trial that will ultimately have a large impact on Arias' fate. Arias faces the death penalty if convicted.
Arias, 32, is accused of the June 4, 2008, slaying of Travis Alexander inside his Mesa, Ariz., apartment. The prosecution contends Arias stabbed Alexander 27 times, shot him twice in the face and slashed his throat in a jealous rage. Arias told jurors she killed Alexander in self-defense during an argument over a dropped camera that followed his escalating sexual demands.
The trial is scheduled to resume at about 1:30 p.m. Eastern time on Thursday, when jurors' questions will be presented to Samuels.

Read below for minute-by-minute updates from court Thursday:
03/21/2013 7:36 PM EDT
Recess
The judge has called the evening recess. The trial will resume Monday at 1:00 p.m. Eastern time.
03/21/2013 7:28 PM EDT
Sidebar
The attorneys are at another sidebar with the judge.
03/21/2013 7:28 PM EDT
PTSD Diagnosis
Samuels said he did not form the opinion that Arias suffered from PTSD until a few months into the evaluation.
Martinez asked Samuels how Arias test results could be accurate when she lied about her involvement in Alexander's slaying at the time she took the test.
"In both of her stories, someone was killed, her life was threatened and she feared for her life. So those similarities made me feel that the redo of the test was not critical to my hypothesis of post-traumatic stress disorder," Samuels said.
03/21/2013 7:25 PM EDT
On Martinez:
There's one compassionate man in the court. Juan Martinez has compassion for Travis & family and a passion for justice for them.#jodiarias

— Howard Redmond (@vicar7) March 21, 2013
03/21/2013 7:21 PM EDT
'No I Didn't'
Martinez asked Samuels if he still felt sympathy for Arias after his first meeting with her. Samuels said he did not feel sympathy for Arias.
"Sympathy for me means more like feeling sorry for someone," Samuels said.
"Okay, so you felt sorry for the defendant after the first meeting then," Martinez said.
"No I didn't, a felt a sense of compassion," Samuels replied.
"A sense of compassion means that you felt sorry for her, doesn't it?" Martinez asked.
"I saw a person who was having a great deal of difficulty, I felt that it would help my evaluation if I sent her this book and that was the full extent of my interaction with her that would in any way be considered therapeutic," Samuels said.
03/21/2013 7:13 PM EDT
'Fired Up'
#JodiArias holy crap, Juan is fired up. I love it

— Gordo (@CdnBeachBum) March 21, 2013
03/21/2013 7:12 PM EDT
Sidebar
The attorneys are at another sidebar with the judge.
03/21/2013 7:11 PM EDT
Hammertime
Martinez is hammering Samuels about allegedly showing Arias compassion and sympathy.
"So when you said you had compassion, you told us that you had sympathy for the defendant, didn't you?" Martinez asked
"Well that's Webster's definition, I used the word compassionate," Samuels replied
"Are you saying that you have a different definition of compassion than Webster's?" Martinez asked.
"I'll go by Webster's definition," Samuels said.
"So Webster's talks about sympathy for the distress of another?" asked Martinez.
"That's correct," Samuels replied.
03/21/2013 7:09 PM EDT
'Alone And Isolated'
"I felt this was a woman who was alone and isolated," Samuels said.
03/21/2013 7:09 PM EDT
Dictionary Page Martinez Showed Samuels: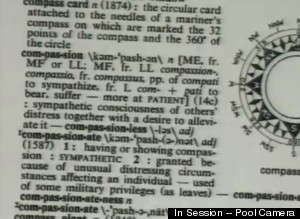 The Huffington Post is live blogging Thursday's testimony. Check back here for updates.
BEFORE YOU GO
PHOTO GALLERY
Jodi Arias Timeline