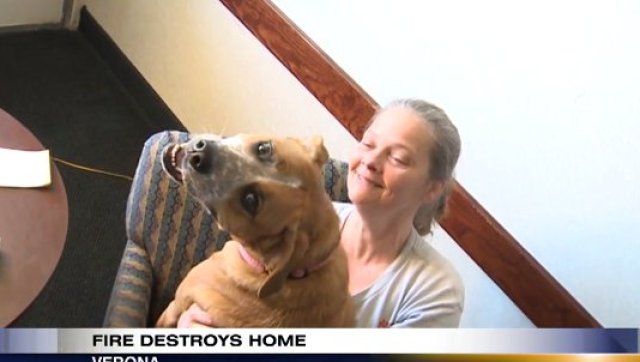 Sherry Spangler, who lives about two hours southwest of the nation's capital in Verona, Va., says Sassy the dog saved her life.
Augusta County Fire and Rescue firefighters got a call around 2 a.m. Tuesday for a fire on Meade Circle.

Sherry Spangler was in her trailer at the time and she credits her barking dog, who alerted her family to the fire, for everyone's safety. She managed to escape the house, but all her belongings were destroyed.
"I was fussin' at her. I said, 'You don't need to go out,'" Spangler told the Staunton News Leader:
But then the lights inside her mobile home at 47 Meade Park Circle suddenly went dark. Spangler said she opened a hallway door, only to be met by a wall of flames.

"It all hit me in the face," she said.

Twelve hours later, after a fire destroyed her rented mobile home and consumed almost all of its belongings, Spangler realized she was lucky to escape the blaze.

"That's my angel there. That big dog saved my life," she said, rubbing Sassy's side.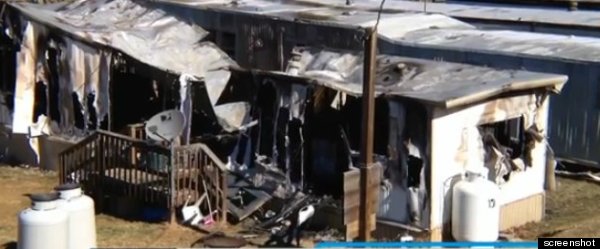 Spangler, whose possessions were not insured, lost most of what she owned -- only some pictures and a family Bible were saved, she told the News Leader on Tuesday; see the ravaged home for yourself in this News Leader video.
"And I've got my life," she said.
The Red Cross furnished a motel room for three nights to Spangler and her 16-year-old son, who wasn't home at the time of the fire.
Spangler initially said she wasn't sure what the family would do after that.
"I don't know where we're going to go," she told the News Leader. "I've got my dog and she saved my life, and I don't want to lose her."
By Wednesday, the family had reason to feel more hopeful. A local church -- the Verona United Methodist Church -- began accepting donations on Spangler's behalf. And the trailer park where Spangler, her son and Sassy the dog lived before the fire said they'd provide a new rental, waiving the deposit fees.
"I'm about to cry thinking about it," Spangler told the News Leader on Wednesday. "It's like a new start."

BEFORE YOU GO