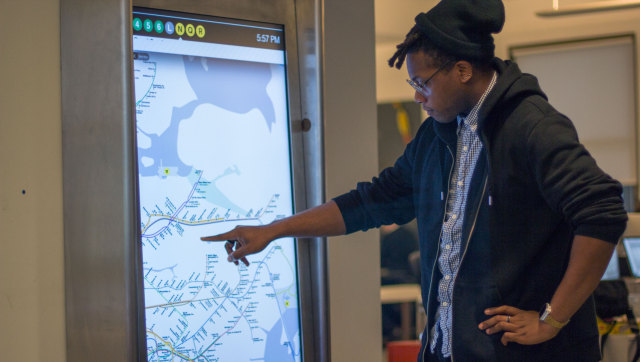 The subway map of the future may be a touchscreen -- but after a week, we bet it won't be pretty.
In September 2011, the MTA installed high-tech touch screens at Penn Station and Grand Central, as well as the subway stops at Bowling Green, Atlantic Ave-Barclays Center, and Jackson Heights-Roosevelt Ave. The On The Go! touch screens can be used to plan trips, look up service delays and find neighborhood maps.
Now, the MTA has declared the touch screen pilot program a success, and is ready to deploy 77 more On The Go! touch screens to subway stations around New York City. The MTA will be working hand in hand with two private companies, CBS Outdoor and the Control Group, to install the kiosks.
First questions first: How gross will these touch screens get after a week of germ-ridden New Yorkers poking at them? Samer Kalif of Animal New York gives us some insight: "You'll want to know how long the N train is delayed for and have your fingers greeted with an uncomfortably warm, greasy surface." That said, many New Yorkers already deal with gross touch screens at least once a month, during the inevitable refilling of the MetroCard. So maybe that's not such a big deal.
Better question: Why is the MTA spending money on touch screens when it could be finishing up the Second Avenue subway line? Okay, so apparently the touchscreens aren't just trivial electronic doodads. In addition to re-routing tourists and generating money for the MTA through ad revenue (yes, the touchscreens will display ads), the screens will also provide Wi-Fi, two-way communication, and will be able to determine metrics like how many people are in a station at once, Fast Company reports.
Wi-Fi-enabled subways? iPhone-style payphones? Take note, cities that aren't New York; you've got a lot of catching up to do.
BEFORE YOU GO
PHOTO GALLERY
New York City Underground Projects