The old adage that any publicity is good publicity may not quite hold true for Ikea.
According to a new analysis, the furniture maker has seen its reputation take a serious hit since recalling Swedish meatballs and wiener sausages from most of its European stores after discovering that some of the products contained horse meat.
The YouGov BrandIndex, which tracks companies' reputations on a daily basis, found that Ikea's "Buzz score" plunged from 14 to 4 after the horse meat controversy erupted.
"In light of the recent IKEA food challenges we have faced, we can understand that the perception of IKEA has gone down," Mona Liss, an Ikea spokesperson, said in a statement to The Huffington Post on Tuesday. "IKEA also aspires to be open, honest and transparent."
"When mistakes happen, we do everything we can do to quickly amend what has gone wrong," Liss added. "We hope that the strong measures we have taken, and continue to take to correct mistakes, will create trust in IKEA and impact the brand positively."
YouGov calculates Buzz scores by asking survey respondents: "If you've heard anything about the brand in the last two weeks, through advertising, news or word of mouth, was it positive or negative?" Buzz scores range from -100 to 100, with positive scores signifying more positive feedback than negative feedback.
This isn't the only food-related problem Ikea has grappled with recently. Chinese authorities announced that they destroyed nearly two tons of Ikea chocolate cake because it contained an excessive amount of coliform bacteria, which is found in fecal matter.
It's been a rough year for Ikea in terms of public perception. Many criticized Ikea in October after it deleted images of women from the Saudi version of its furniture catalogue. And an Ikea-commissioned report released in November found that some of Ikea's suppliers used forced labor in East Germany in the 1980s. Ikea's Buzz score fell after both controversies.
Look at how Ikea's reputation has changed: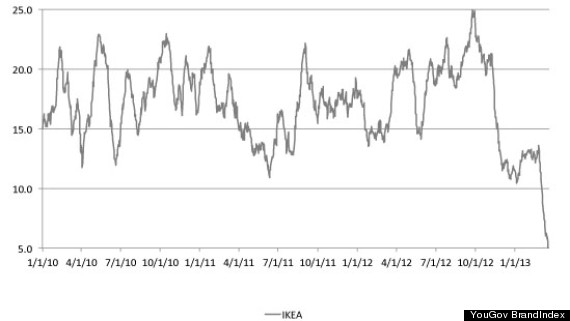 BEFORE YOU GO
PHOTO GALLERY
Companies With The Best Reputations