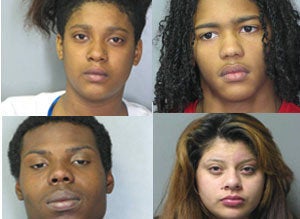 Margaret Smith, 89, was found after reports "of an elderly woman wandering around the graves" on a plot near Seaford, Del., according to the state police.
The ordeal began on March 18, outside the Chicken Man Convenience Store, when two girls -- identified as Junia McDonald and Jackeline Perez -- asked Smith for a ride to a home in Lincoln. She agreed.
According to the police statement:
When they arrived at a residence, the two girls demanded the victim's keys and a struggle ensued between the victim and the girls when Ms. Smith refused to hand them over. Once in possession of the keys, the girls then ordered Ms. Smith out of the car and forced her into the trunk of the car before driving off with her inside. At one point during the kidnapping, the two girls demanded money from the victim before removing more than $500.00 from her coat pocket.
Smith's relatives grew concerned for the 89-year-old, who has health conditions that require medication. They contacted authorities, who issued a Gold Alert with her vehicle information and physical appearance.
Smith was locked in the car trunk for two days before the teens dropped her at the cemetery, police say. She received treatment at the Nanticoke Memorial Hospital and was then released.
The suspects: Junia McDonald, 14; Jackeline Perez, 15; Rondaiges Harper, 17; Phillip Brewer, 17; and Deniaya Smith, 15. McDonald and Perez are each charged with robbery, carjacking, kidnapping and conspiracy. The other suspects face various other charges.