Attention Congress: A partial solution to improving the economy may actually be buried within another political battle all together.
Granting undocumented immigrants immediate citizenship would add $1.4 trillion to economic growth, increase tax revenues by $184 billion and create 203,000 jobs over the next decade, according to a new study from the Center for American Progress.
"Unauthorized immigrants are currently earning far less than their potential, paying much less in taxes, and contributing significantly less to the U.S. economy than they potentially could," authors Robert Lynch and Patrick Oakford explain in the report.
Within five years of earning citizenship, an undocumented worker would make 25.1 percent more annually, Lynch, the Everett E. Nuttle professor and chair of the Department of Economics at Washington College, told The Huffington Post. These wage gains "ripple through the economy" as immigrants use their income to stimulate the economy and pay taxes, he writes in the report.
Lynch and Oakford also studied the economic impact of providing legal status in 2013 but waiting five years to grant citizenship. The researchers found that a delay in granting citizenship would mean it would take 10 years instead of five for the incomes of the undocumented to increase 25.1 percent leading to a smaller positive impact on the economy.

"The timing of immigration reform has a huge impact on the overall economic benefits," Lynch told HuffPost. "The sooner you provide legalization and citizenship, the more your maximize those benefits."
Bloomberg Businessweek illustrates the potential economic growth of granting undocumented immigrants citizenship in a profile from its March 18th issue. Alejandrino Honorato lived illegally in a labor camp until he was granted citizenship in 1986 under Ronald Reagan's Immigration Reform and Control Act. Today, Honorato is a full U.S. citizen in Florida who employes 60 people and owns two restaurants and a small grocery store.
In fact, a U.S. Department of Labor study found that immigrants that were granted citizenship under Reagan's plan experienced a 15.1 percent increase in their average inflation-adjusted wages.
Lynch said he has not come across a reputable study that denies the economic benefits of providing citizenship to undocumented immigrants and that economists are in "pretty universal" agreement on the issue. That said, a recent Hamilton Project paper was inconclusive about how granting citizenship would affect the wages of Americans with less than a high school diploma.
Vocal opponents like former Florida Governor Jeb Bush also contend that economic benefits aside, providing a path to citizenship would tarnish the "integrity of our immigration system."
Lynch cautioned that although the results of providing citizenship are clearly positive, they are not "sufficient enough to be bring back a massive resurgence in the U.S. economy."

The chart below, provided by CAP, demonstrates the ways in which the economy will benefit from undocumented immigrants acquiring legal status sooner rather than later: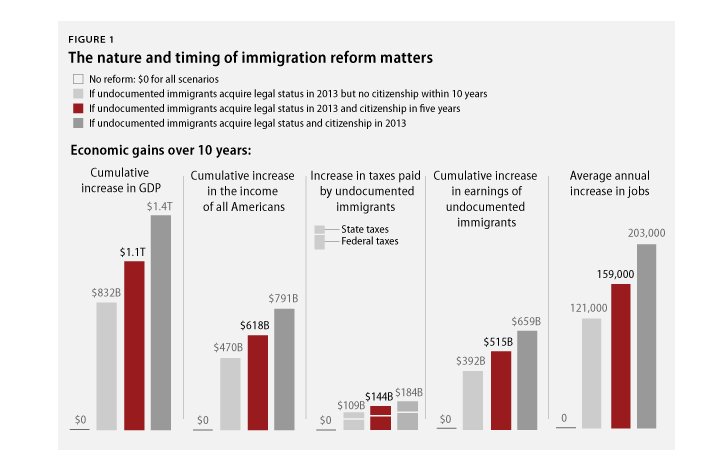 BEFORE YOU GO
PHOTO GALLERY
Companies That Will Save The U.S. Economy