Imagine the inside of a white balloon. Now blow that balloon up to 177,000 cubic meters, and imagine yourself standing inside this massive envelope of air. You are now inside Christo and Jeanne-Claude's installation, "Big Air Package."
Christo and the late Jeanne-Claude are the grandparents of fantastical large-scale installations. The pair draped a 400-meter curtain across a valley in the Rocky Mountains, surrounded 11 Miami islands in bright pink tutus, and dotted Central Park with over 7,500 shimmering orange gates. With "Big Air Package" Christo is once again pushing limits of space and environment.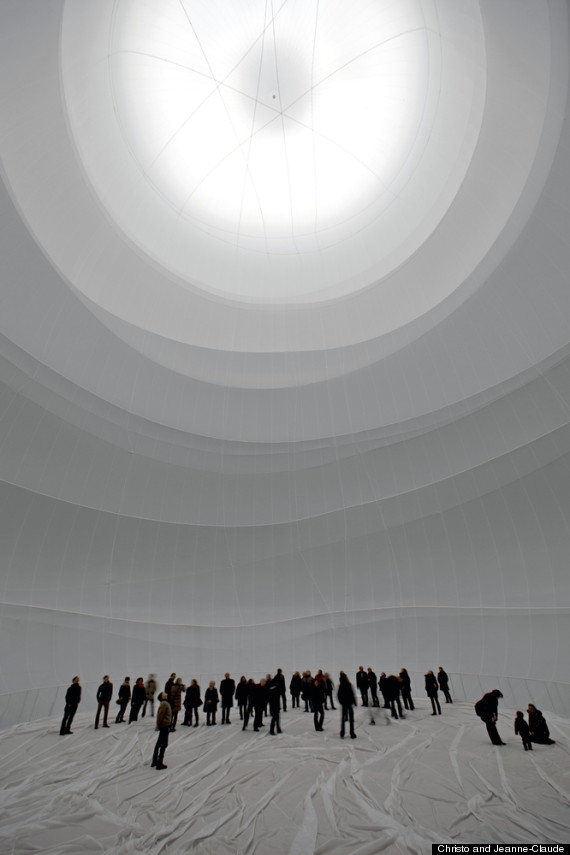 According to the artist's website, the installation is the "largest ever inflated envelope without a skeleton" at 90 meters high and 50 meters in diameter. The structure stands inside a former natural gas container in Germany, and the massive cylinder is inflated by two air fans.
"When the Big Air Package was finally installed, it was absolutely unexpected," Christo states in the installation's press release. "The fabric very much transports the light. You are virtually swimming in light when you are inside the Big Air Package."

"Big Air Package" is on view at the Gasometer Oberhausen in Germany from March 16 to December 30, 2013.
BEFORE YOU GO
PHOTO GALLERY
Big Air Package