After Chicago Public Schools officials on Thursday unveiled their plan to shutter 54 of the district's elementary schools, the Chicago Teachers Union, parents and community groups vowed to dig in their heels and continue to push back against the proposal.
Joining their ranks by the week's end, however, were a number of elected officials who, like other critics of the mass school closings, view the action as having a disproportionately detrimental impact on minority students in low-income, high-crime neighborhoods, points made all the more dramatic by one map that went viral (embedded below) on social media Friday.
In an interview with the Chicago Reader's Mick Dumke, Cook County Board President Toni Preckwinkle described the closings as "very problematic."
When it came to Police Superintendent Garry McCarthy attempting to assuage the concerns of students being forced to cross gang boundaries in order to get to their new schools, Preckwinkle told the Reader, "I don't know how the superintendent can say he's going to keep all the kids safe. I don't know what possessed him to say that."
Aldermen representing some of the communities hardest hit by the coming closings also expressed dismay at the plan and said they'd continue to push the district to reconsider their decision ahead of a final vote on the matter to be taken by the Chicago Board of Education on May 22.
"Until (board President David) Vitale gavels the meeting closed, there's still an opportunity to move," Ald. Jason Ervin, whose West Side 28th Ward is home to six schools named on CPS' hit list -- the most of any ward in the city, according to the Chicago Tribune.
Parent groups, also, aren't demurring. Parents 4 Teachers assembled outside City Hall late Friday afternoon to protest the closings. Erica Clark, a founder of the group, told DNAinfo Chicago the group is still aiming to prevent the closings.
"It's going to take a tremendous amount of pressure. We're going to make life very uncomfortable for the powers that be until this decision is made," Clark said.
CTU Vice President Jesse Sharkey told HuffPost in a Thursday interview that his union would be engaging in "any and all nonviolent forms of protest we have at our disposal including legislative and legal. Also direct actions like sit-ins to try to stop this disastrous policy."
The district has continued to argue the closures are inevitable because too many CPS schools are sitting half-empty, putting an extra strain on the district at a time when it's facing a $1 billion budget deficit. CPS CEO Barbara Byrd-Bennett has said that students will be moved to new schools that are higher-performing and will have more resources, such as library and tutoring services, additional security and air conditioning.
"We know this is going to be difficult, but we believe it's the right thing to do," CPS spokeswoman Becky Carroll told the Associated Press.
According to a Chicago Sun-Times analysis, only two-thirds of the schools CPS intends to close will be sending their students to schools with stronger academic rankings. Per the paper, 17 of the schools will be sending its students to similarly performing schools and eight will be sending kids to schools with lower 2012 ISAT scores.
In response, the district said those test scores alone do not tell the full story of a school's success and reiterated their confidence that students "will be set up to be well served once they're all in their new school."
CPS school closings and the 2012 homicide heat map -- visit the Sun-Times to view the original data the map is based on: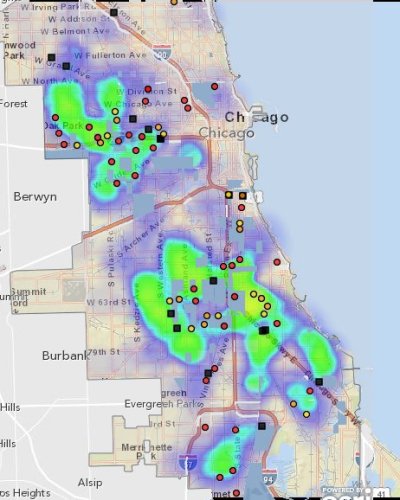 View a larger version of the map created by Radicals Against Discrimination.
BEFORE YOU GO
***
PHOTO GALLERY
Chicago Teachers Strike