Kansas and North Carolina ... in the round of 32? Amazing. Marshall Henderson talking about getting paid? More amazing. And of course, a Sunday filled with potential first-round draft picks doesn't hurt either.
Here is a look at the 10 things you can't miss from the final day of the tournament's opening weekend.
1) Rock Chalk, Go Home?
Our dream second-round matchup pitting former Kansas coach Roy Williams and current North Carolina lead man against the No. 1 seeded Jayhawks comes to fruition. The Tar Heels are playing their best basketball of the season with P.J. Hairston at the four spot spreading teams with elite 3-point shooting. Kansas meanwhile, has its own elite offensive unit (75 points per game) with four senior starters and a balanced mix of scoring. I do think the Heels will prevail though, in a classic blue-blood tilt. Don't forget the 2008 Final Four when Kansas prevailed en route to a national championship.
2) Gator Chomp
Florida is rolling with senior forward Erik Murphy shooting lights-out from the perimeter and has a nice blend of talented guards. The Gators have the ability to play both slow and fast, and while we know Minnesota has bodies, Billy Donovan's club is just too deep and athletic for the Gophers. Patric Young, by the way, is a pure monster on the glass.
3) Let it Fly!
If you like the long ball, than Illinois vs. Miami is your game. The Illini rely on the triple more than any team in the field, and can beat anybody when it gets hot. Boasting previous wins over Indiana, Gonzaga, Butler and Ohio State, this is not your normal 9 seed. The Canes meanwhile, have a quartet of bombers with Shane Larkin (41 percent), Trey McKinney Jones (40 percent), Durand Scott (36 percent) and Kenny Kadji (36 percent).
4) Experience Rules
Jim Larranaga's Miami club ranks eighth nationally in Ken Pomeroy's experience metric, boasting Kenny Kadji, who's almost 25, along with 23-year-olds Julian Gamble, Durand Scott and Reggie Johnson. Larranaga, 63, is no neophyte himself and has been to the rodeo before, when he took George Mason to the Final Four in 2006. The Canes have great ability, but perhaps their experience will be just as important moving forward in the tournament.
5) Marshall, Marshall, Marshall
Mr. Henderson may have gone a mere 6-21 against Wisconsin, but he still managed to dazzle us with his late-game heroics in the Rebels' 12-5 upset. La Salle loves to play the transition game and Henderson should easily surpass his normal dose of 11 attempted 3s per game. At this point, I'm not sure anybody is more compelling.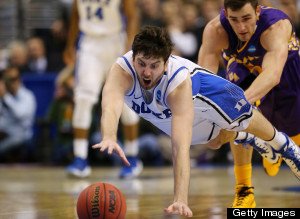 Duke's Ryan Kelly might just be the key to a deep Blue Devils' run this season.
6) Beware of the Stretch Four
We get a fantastic duo of stretch fours in Duke's Ryan Kelly and Creighton's Doug McDermott, the most efficient scorer in the country. McDermott is the more versatile scorer and better talent, but Kelly's ability to pick-and-pop is the reason why the Blue Devils have lost just once all season with him in the lineup.
7) Giant Killers
Can Florida Gulf Coast do the unthinkable again? We will find out, but either way, as coach Andy Enfield said during an interview Saturday, the Eagles are going to play their distinct style of attacking, transition based basketball. FGCU averages 73 points per game and having now beaten both Georgetown and Miami this season, clearly has the ability to beat anyone in a one-game format.
8) Guard Play
Sunday has a barrage of great guard play, namely from Temple's Khalif Wyatt (dynamite scorer), Minnesota's Andre Hollins (stroke city), Duke's Seth Curry (jack of all trades), Miami's Shane Larkin (super playmaker), Ohio State's Aaron Craft (lockup defender) and my favorite, San Diego State's 6-foot-6 Jamaal Franklin, a do-it-all talent.
9) Indiana's Lottery Duo
I wanted to say "Otto's My Lotto" for Otto Porter -- and "Knocked Up" -- but the Hoyas went and lost, so my lottery focus shifts to Cody Zeller and Victor Oladipo. Zeller is a terrific low and high post scorer while Oladipo, as you know, might be the most versatile player in the nation. Temple is tough, but the two Hoosiers are really special.
10) A Mayor and His Cyclones
Iowa State coach Fred Hoiberg -- otherwise known as "The Mayor" -- has the fourth highest scoring team in the country at nearly 80 points a game. Its best shot at knocking off a very hot 27-7 Ohio State team is the transition attack fueled by fifth year senior point guard Korie Lucious, Will Clyburn, and Chris Babb, who is also an elite wing defender.
Email me at jordan.schultz@huffingtonpost.com or ask me questions about anything sports-related at @Schultz_Report.