An arugula-leek tart is the perfect marriage between winter and spring. Its rich and hearty filling warms us through these final cold spells that make us feel like winter will never end; and the loads of arugula and leeks taste of the promise of fresh spring produce to come.
An added bonus is arugula's stress-reducing properties -- it's loaded with folate which helps produce the feel-good neurotransmitter dopamine. It just might help us remain calm about the fact that snow is still being forecasted.
Arugula And Leek Tart
From Bakers Royale
Makes one 10 inch tart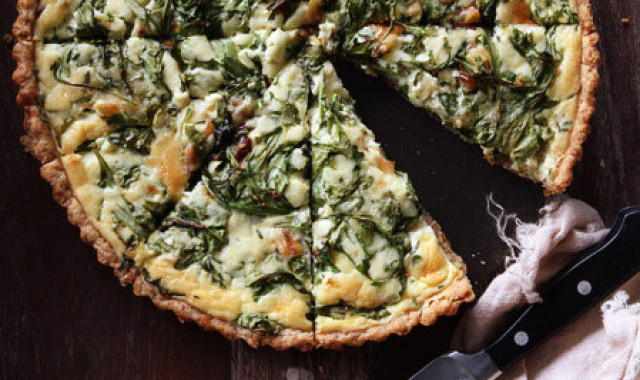 For Crust
2 cups of unbleached all-purpose flour
2 tablespoons parmesan, finely grated
1 teaspoon kosher salt
1/4 teaspoon fresh cracked pepper
3/4 cup (1 1/2 sticks) unsalted butter
1/4 cup ice water
1. Heat oven to 375 degrees F. Add flour, parmesan, salt and pepper into a food processor bowl and pulse until well combined. Add in butter and pulse until the mixture resembles coarse crumbs, about 8-12 seconds. With the machine running, add ice water through the feed tube in a slow stream, a little bit at a time until the dough just comes together. The mixture will look like wet sand and still crumbly. Turn the mixture out onto a lightly floured surface and very lightly knead dough into one large piece. Wrap dough in plastic wrap and chill in the refrigerator for at least an hour before using. Once chilled, remove dough from refrigerator and roll it out between two pieces of parchment into a 12 inch round.
2. Transfer to 10-inch tart pan with a removable bottom. Press dough onto bottom and sides. Fold overhang in and press to extend dough 1/2 inch above sides of pan ( the crust will shrink some, so do not skip this). Line pan with foil and pie weights or dried beans. Bake for about 30 minutes or until dough starts to set. Remove foil lining and bake for about another 20-25 minutes or until crust is pale golden. Remove from oven and transfer to wire to cool while preparing filing
For Filling
2 tablespoons of unsalted butter
4 leeks (white part), coarsely chopped
1 tablespoon thyme
4 large eggs and one large egg yolk
1 cup heavy cream
3/4 cup milk
1/3 cup Fontina cheese, grated
1/4 cup Parmesan cheese, grated
2 1/2 oz arugula
1. Melt butter in a large skillet over medium low heat. Add in leeks and thyme and then cover and cook until leeks are tender, stirring every so often. Remove from heat and transfer leeks to a bowl to cool. In a separate bowl combine eggs, cream, milk, both cheeses and whisk to combine. Mix in cooled leeks and arugula into mixture.
Pour filling into crust and bake at 375 degrees. Bake for about 35-40 minutes or until filling starts to puff, gold spots appear and center is set. Remove from oven and transfer to rack and cool slightly. Serve warm.