If the NCAA Tournament's opening weekend taught us anything, it's that the difference between a No. 1 or 2 seed and a 9 seed, let alone a 14 or 15 seed, is minuscule. Parity clearly rules in college basketball. Though pessimists might say the game is "watered down," the lack of one elite team (with all due respect to Rick Pitino's Louisville Cardinals) and the abundance of very good teams both have become more apparent and made the tournament more engaging.
Florida Gulf Coast University and its up-tempo, transition-based attack dominated Georgetown in the second half in the second round and did the same to San Diego State in the third. Wichita State's seven straight triples buried Gonzaga (which barely held on against Southern University in the round of 64), and Harvard controlled powerful New Mexico with the long ball as well. Ohio State, playing a de facto home game in Dayton, needed what was at best a questionable charge call to overcome a furious rally from Iowa State in the round of 32. Even Indiana barely survived a nearly fatal scare from 9 seed Temple on Sunday, during a game in which the Owls led by four with less than 3 minutes remaining.
Is this not the beauty of the tournament, though? Is this not why we love March with such conviction?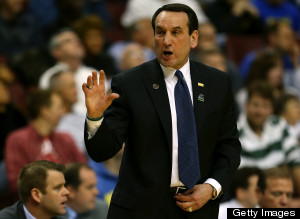 Duke coach Mike Krzyzewski says: "We're not surprised that [huge upsets] happen, especially today. The 14, 15 and even 16 seeds now are better."
In the one-game format, when the three is falling and confidence rises in the underdog, the ability to string the big upset increases. Florida Gulf Coast, in just its second year of eligibility for the post-season since coming out of Division II, overcame surefire NBA lottery pick Otto Porter and the Big East stalwart Georgetown Hoyas because it ran them to death and played so freely. With its win over San Diego State, FGCU becomes the first 15 seed ever, in 75 years of brackets, to reach the Sweet 16.
In Sunday's New York Times, FGCU head coach Andy Enfield said: "We don't care who we play. We'll play anyone anywhere, at anytime." Even before his team's big upset, Wichita State coach Gregg Marshall said, "This group thinks they can beat anyone in the country." Duke's Mike Krzyzewski may have summed it up best, saying, "We're not surprised that those things happen, especially today. The 14, 15 and even 16 seeds now are better."
That isn't heresy. Double-digit seeds simply are not afraid of Goliath anymore.
Because of the one-and-done rule, high-ranking major teams often lose their elite talent very early on to the NBA. Just ask Kentcuky lead man John Calipari about that. But what generally means a loss for premier programs is a gain for non-BCS schools and non-blue bloods. Of course, there are exceptions. Kansas after all, starts four seniors this year, but just think about how good the Jayhawks would be had junior All-American Thomas Robinson come back to school for a final season instead of going pro.
John Thompson III and his Georgetown Hoyas have received a heavy dose of criticism for losing, but this is truly a new era of college basketball. While a 16 seed has yet to win a game over a 1 seed in the history of the tournament, 2013 marks the second straight year with at least one 2 seed bowing out in the round of 64. Last year, powerhouse Duke lost to Lehigh, while Missouri fell to Norfolk State.
Three of the four 12 seeds won in the second round this year, and Oregon -- albeit from the Pac-12 -- is headed to the Sweet 16. La Salle, a 13 seed that barely got into the tournament, has a shot at the Elite 8.
This may not be the first year of marquee upsets in March, but a shift is undoubtedly occurring: Seeding and which conference a team comes from have become far less relevant.
And that's a beautiful thing.
Email me at jordan.schultz@huffingtonpost.com or ask me questions about anything sports-related at @Schultz_Report.
BEFORE YOU GO