Today we are wishing a wonderful birthday to Matthew Barney, the visionary sculptor, filmmaker and performer behind the CREMASTER Cycle. The avant-garde storyteller, imaginative myth-maker and Mr. Bjork turns 46 today. Barney was initiated into the New York art world when he moved across the country following his parents' divorce. After being recruited by Yale to play football, Barney, who formerly dreamed of being a plastic surgeon, balanced his pre-med studies with a heavy dose of artistic education.
After a brief stint modeling for J.Crew, the chiseled creative was given a solo exhibition at SFMOMA at only 24 years of age.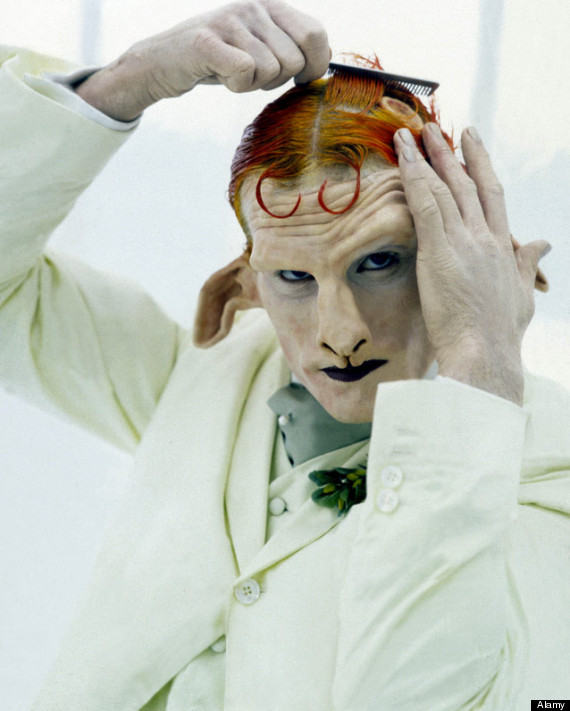 However, the artist is most worshipped for his five-part feature film series in the nineties and early aughts, taking the "CREMASTER" name from a muscle covering the spermatic cord and testes. This combination of science, muscle and sexuality runs thick throughout Barney's work, which connects fantasy and biology through overwhelming physicality.
So how would Barney's life partner describe the accomplished artist? "He's a bit of a submarine," Bjork once told the the New York Times.
The artist's work is ripe with mythological symbolism is both critiqued and revered; Peter Schjeldahl called "Drawing Restraint 9" a "snooze" in the New Yorker while Jonathan Jones at the Guardian once hailed the CREMASTER Cycle as "one of the most imaginative and brilliant achievements in the history of avant-garde cinema."
Lucky New Yorkers can see his work on view from May 10 through September 2 at the Morgan Library in the exhibition, "Subliming Vessel: The Drawings of Matthew Barney." William M. Griswold, the museum's director, told the New York Times: "For many people it will be a real revelation."
Check out Barney's many disguises and masterpieces in the slideshow below:
PHOTO GALLERY
Matthew Barney
BEFORE YOU GO