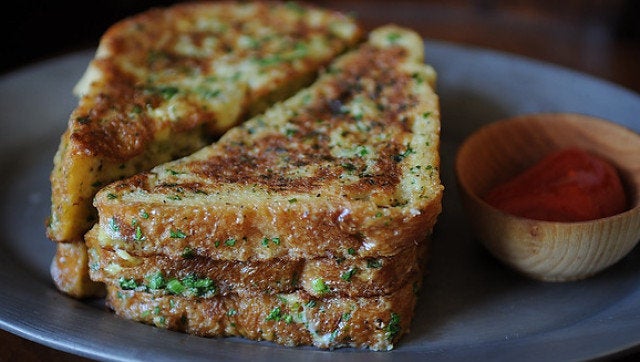 Dinner in 10 minutes: it's something we all face, sometimes valiantly with great success, and sometimes with a pack of ramen noodles. We love our quick and dirty package of ramen every once in a while, but we try to do our best to keep you guys in homemade, occasionally healthy, good food as often as possible. So we're constantly keeping track of the things we make best in the shortest amount of time. We like to share the wealth guys.
Today's easy, 10-minute dinner: pain perdu. Don't be scared away by the fancy French name, pain perdu is just French toast. In French, it means "lost bread," and was invented as a way to use up day-old bread. We know what you're thinking: "Ugh, breakfast for dinner?" No, no. Not today. We're talking savory pain perdu. We're talking crispy, salty, buttery french toast with some combination of vegetables, cheese if you like, prosciutto if it's around... we have a lot of ideas. Let's break down each component of this 10-minute meal, and then we can get to our savory pain perdu roulette game.
The Bread: You can use any kind of bread you have on hand. Seriously, any kind. We are happiest about making pain perdu when we have either challah/brioche (nothing sucks up custard better than these guys), or a big hearty country loaf (thick, crusty breads stand up well to an egg custard bath). If all you have on the counter is a loaf of white sandwich bread, you are still in great shape.
The Custard: You need some combination of the following: eggs, milk, seasoning. This recipe for Crispy Salt and Pepper French Toast from Food52 uses half and half, salt and pepper, cilantro and green onions. You can use milk, cream, buttermilk, or even creme fraiche. You can sprinkle in a bit of smoked paprika, garlic powder, cayenne pepper or herbes de Provence. Chop up some herbs! Dash in a little hot sauce! (Okay, sorry, we're getting too excited.)
The Fat: Cook this dinnertime French toast in butter, olive oil, or a combination of both. If you were to add a small bit of bacon fat to the skillet, we wouldn't judge you.
The Toppings: Your creativity and time constraints are your only limits. You can sautᅢᄅ some mushrooms and spinach in your hot skillet before you sear your pain perdu. Or, top it with avocado, tomato, queso fresco and Cholula. Shredded rotisserie chicken, blue cheese, celery leaves and Frank's RedHot. Creme fraiche, smoked salmon and chives. This is also a great time for your leftovers to shine -- say you made a big pot of beans and kale a few nights ago, spoon it over the top, sprinkle over some fresh parsley and you're done.
Slice your bread.
Crack your eggs into a bowl with your milk and seasonings (great place to grate in Parmesan, just saying).
Decide what you're topping your pain perdu with. If it requires sautᅢᄅing or re-heating, do it now!
Soak your bread in your custard and heat your fat in a skillet.
Once the butter, olive oil, or whatever you've used is hot, sear your pain perdu on both sides until browned and crispy.
Pile it all together, delight in your efficiency, get on with your evening.
BEFORE YOU GO
PHOTO GALLERY
Barley Recipes