In 2007, Janice Langbehn, her wife Lisa, and their four kids traveled from Washington state to Miami to take a cruise to escape the winter. But before they even boarded the ship, Lisa collapsed, suffering a brain aneurysm.
She was rushed to Jackson Memorial Hospital's Ryder Trauma Center where a social worker told Janice that she was in "an anti-gay city and state" and would not be able to see Lisa or learn about her condition without a healthcare proxy.
That's because at the time, Miami-Dade County and Florida did not formally recognize domestic partnerships.
As Lisa's conditioned worsened over the day and night and she was moved to Neuro ICU, Janice says she was kept in the dark although she and Lisa had a living will and power of attorney for health care decisions.
Janice and her kids were finally able to see Lisa for ten minutes before she died. Read more of her story here.
In 2008, Miami-Dade created a domestic partnership registry, granting hospital and jail visitation rights to couples like Janice and Lisa.
But five years later, only six other counties and a handful of cities have the done the same while Florida still lacks any recognition of domestic partnerships on the state level.
In response Florida lawmakers have sponsored a bill to create a statewide domestic partnership registry.
Without it, the state's patchwork of domestic partnership rights have scary consequences.
"If you live on the border between a municipality that has these protections and one that doesn't," Nadine Smith, executive director of Equality Florida, explains, "in that urgent moment when seconds matter, you have to consult a GPS to determine which hospital to race to, which place will respect you as a family and which will treat you as a legal stranger."
"It's time for government to get out the way of people who simply want to take care of their loved ones," Smith said.
Domestic partnership registries are a baby step in the right direction for Florida, which only overturned the ban on adoption by gay parents in 2010, but they fall very short of the full rights granted to legally married couples, an issue on which the U.S. Supreme Court will deliberate on Tuesday.
"Believing that domestic partnership rights are enough is no different than accepting the racist 'separate but equal' legislation of our shameful and intolerant past," one critic said. "No amount of domestic partnership legislation can give members of same-sex couples the same social status as a married couple."
Meanwhile 75 percent of Floridians support either gay marriage or civil unions, according to a recent poll by the Democratic firm Public Policy Polling.
Click below to see all the Florida counties that don't recognize domestic partnerships, according to analysis of the Families First bill:
PHOTO GALLERY
Florida Counties Without Domestic Partnership Registries
Here's a map of U.S. counties that offer domestic partner benefits either county-wide or in particular cities (colored green) or statewide partner benefits (colored yellow), as of February 1, 2012: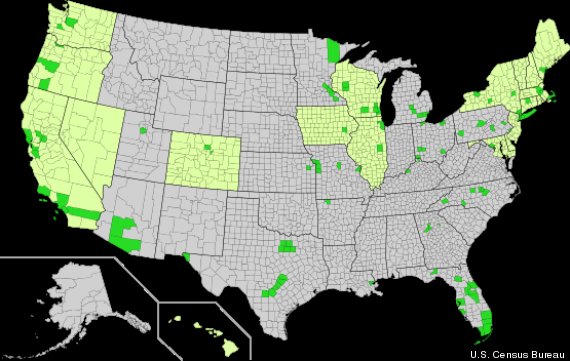 BEFORE YOU GO