This is not a contest any country should hope to win, but five countries tied for first place in Maplecroft's 2013 sexual violence in conflict index.
In its annual report, the global risk analysis group revealed the top 10 countries that pose the most "extreme risk" of sexual violence during times of conflict.
Assessing the impact of sexual violence on societies throughout the past 15 years, Maplecroft evaluated the severity of such abuse. Two specific indicators of serious risk included the "systematic use of sexual violence as a weapon of war and the involvement of child soldiers either as victims or perpetrators of sexual violence during a conflict."
Representing the United Nations, Angelina Jolie traveled to the Democratic Republic of Congo this week as part of a campaign to quash rape and sexual violence in war zones.
"This visit is about hearing first hand from people who have endured rape and sexual violence during the conflict in the eastern DRC," Jolie said in a statement.
Along with British Foreign Secretary William Hague, Jolie will visit several countries in Africa ahead of the 2013 G8 summit in May. As the Agence France-Presse notes, the campaign against sexual violence will also be brought before the U.N. Security Council, as well as the U.N. General Assembly later this year.
View the map to see where each country falls on the risk spectrum, and see the 10 worst offenders in the gallery below. (Note: The top five offenders weren't the only countries that tied on the list.)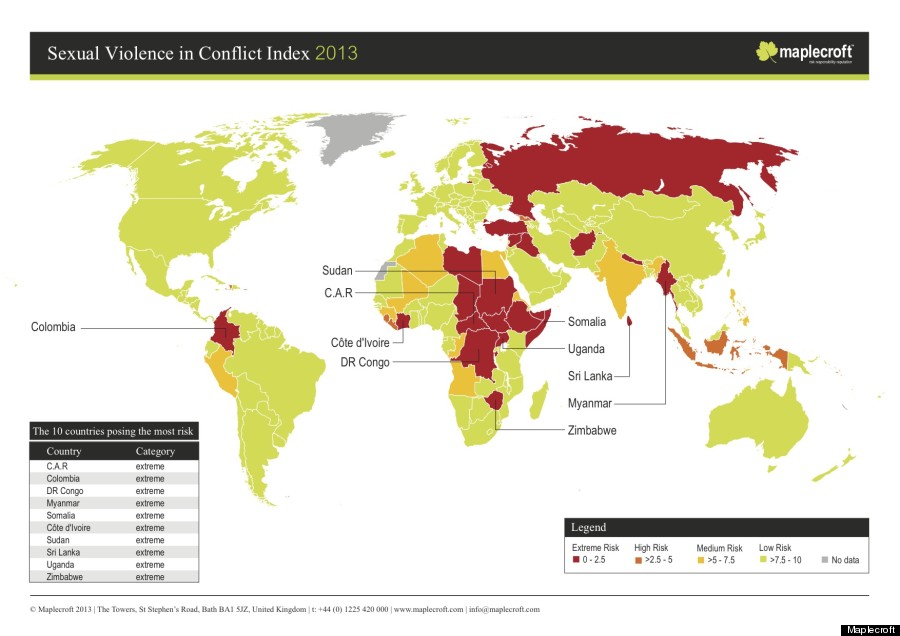 PHOTO GALLERY
10 Worst 'Sexual Violence In Conflict' Offenders
BEFORE YOU GO