It did not take long for Steven Cohen, the billionaire behind SAC Capital, to get over his $600 million payout to the Securities and Exchange Commission (SEC). Not even two weeks after the hedge-fund manager settled over insider trading allegations, the 117th richest man in the world purchased a famous Picasso painting. The price tag on the masterpiece? A whopping $155 million.
According to The New York Post's anonymous source:
"Steve bought 'Le Rêve' as a gift to himself. This was supposed to be a top- secret sale because of the government investigation and settlement."
Well, the sale was not so secret now, and neither is the backstory behind Cohen's recent acquisition. He attempted to buy the Picasso in 2006 from fellow billionaire and casino mogul Steve Wynn. But Wynn accidentally put his elbow through the canvas while showing it off to some pals, Nora Ephron famously reported in a blog for The Huffington Post. The Three Stooges-esque snafu resulted in about $45 million in damage and the loss of a sale to Cohen.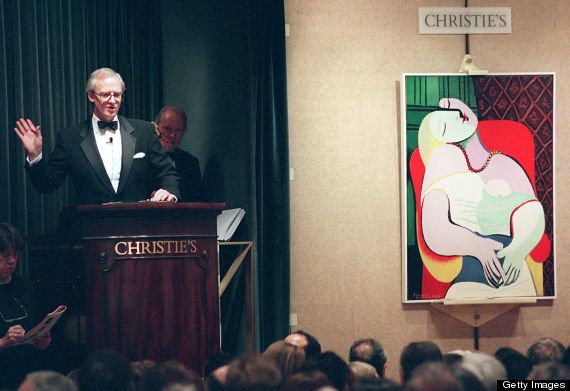 Christopher Burge, chairman of Christie's (L), starts the bidding for Pablo Picasso's painting, 'Le Reve', 10 November in New York at an auction of the collection of Victor and Sally Ganz. The painting, one of 58 pieces of 20th century art offered for sale, was bought for 48 million USD by an unidentified bidder. (STAN HONDA/AFP/Getty Images)
Fast forward to 2013 and Wynn, who originally paid $48 million for the famed painting, not only sold the Picasso to Cohen but he made a hefty profit along the way. The original asking price from 2006 jumped from $139 million to $155 million, according to New York Magazine. (Note to future collectors: When a Vegas hot-shot puts their appendage through a work of art, the value of the piece might just increase if you wait it out.)
In case you were interested in the rest of Cohen's illustrious art collection, the billionaire investor has also laid down big bucks for works like Edvard Munch's "Madonna" ($11 million), Damien Hirst's "The Physical Impossibility of Death in the Mind of Someone Living" ($8 million), Willem de Kooning's "Woman III" ($137 million), Andy Warhol's "Turquoise Marilyn" ($80 million), and Jasper Johns' "Flag" ($110 million). He also recently donated works by Cy Twombly and Martin Kippenberger to the Museum of Modern Art's permanent collection, the New York Times reports.
Sometimes retail therapy works, we suppose.
BEFORE YOU GO
PHOTO GALLERY
The Biggest Art Auction Sales of 2012