HuffPost Arts&Culture is celebrating Women's History Month with the help of our favorite artists -- female artists, of course. Every day of March we're rolling out a new key player in the art world with a playing card... Get it? Print them out for your own amazing (although probably a bit flimsy) card deck or use them to stay fresh on your favorite women in art.
SIX OF DIAMONDS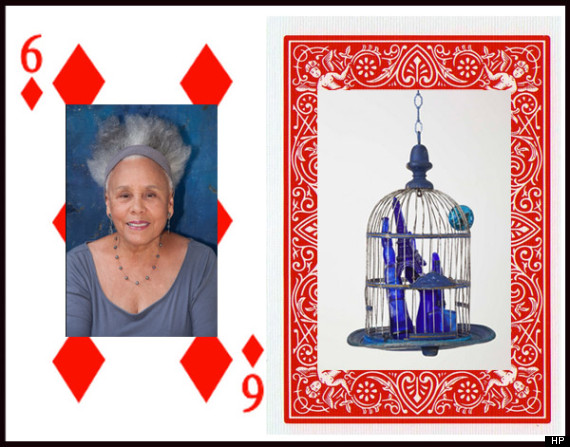 WHO: Betye Saar
WHAT: The 86-year-old artist is known for her assemblages incorporating imagery from her heritage (African, Native American, Irish and Creole) as well as stereotypical African-American figures including Aunt Jemima, Uncle Tom and Little Black Sambo. Her later works explore the relationship between the technological and the mystical, incorporating Voodoo references, amulets and computer chips in her collaged works.
WHERE: Listen to Saar's interview on NPR here , go behind-the-scenes of a Saar exhibition with SFMOMA here, or check out this interview from Netropolitan Artsconversations below:
WHY: Any artist who calls herself a "conjurer" and a "recycler" has us entranced.
See more of our playing cards in the slideshow below:
PHOTO GALLERY
Women's History Month Artists
Images: Front: Betye Saar, 2010; Photograph by Jacob Wheeler; Courtesy of Michael Rosenfeld Gallery LLC, New York, NY
Back: Betye Saar (b.1926), Evening in Paris, 2010, mixed media assemblage15 1/2" x 10 1/2" x 10 1/2", signed and dated
Courtesy of Michael Rosenfeld Gallery LLC, New York, NY