The Supreme Court weighed the constitutionality of the Defense of Marriage Act (DOMA) on Wednesday while hearing oral arguments in United States v. Windsor.
It was the second gay marriage case heard by the high court this week. On Tuesday, the court heard arguments on Proposition 8, California's gay marriage ban.
Listen to audio of the oral arguments from United States vs. Windsor above, and click here to read a full transcript.
See photos from the Supreme Court below, and scroll down for live blog updates:
PHOTO GALLERY
Supreme Court Proposition 8 Case
03/27/2013 5:36 PM EDT
Rep. Xavier Becerra Brings Daughter To SCOTUS To Witness Support For Gay Marriage
Dressed in jeans and a fleece jacket, Rep. Xavier Becerra (D-Calif.) was trying to be discrete when he brought his daughter Natalia to the Supreme Court on Wednesday to check out the crowd gathered outside in support of gay marriage.
But Spanish-language media soon recognized him and pulled him in front of the cameras. Soon enough, he was on a makeshift stage with Natalia drawing cheers from members of the crowd, describing them as "soldiers for equality."
Later talking to The Huffington Post, Becerra, who is the chairman of the House Democratic Caucus, recalled his vote in 1996 against DOMA, something he said brought on significant criticisms from his church.
"I'm a proud Catholic," Becerra said, standing next to Natalia, who had a rainbow ribbon tied in her hair. "But you do what you feel is right."
Nearly everybody invoking religion outside of the court on Wednesday did so in the name of a loving God who embraces all people, including LGBT people who want to marry their same-sex partner. But there were a handful of others with signs condemning gay marriage and pointing to the Bible as the reason for their stance. Becerra said he respected those people's religious views, but said their beliefs don't apply to him or anyone else.
"When you enter into the public forum, when you start to have our civil life dictated by our religious values, our Constitution says no," he said. "Our Constitution says everyone is created equally. If that conflicts with someone's religious values, we still say, in this country, that the civil value wins out."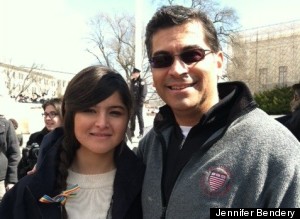 --Jennifer Bendery
03/27/2013 4:50 PM EDT
Roberta Kaplan, Attorney for DOMA Plaintiff Edith Windsor: 'We Feel Good'
Roberta Kaplan, the attorney representing the woman at the center of the DOMA case before the Supreme Court, was all smiles after she wrapped up the nearly two hours of arguments over the unconstitutionality of the federal ban on gay marriage.
"I'm not in the business of predicting, but I'm going to use the statement that Edie made, which is, she felt good. We feel good," Kaplan told The Huffington Post.
Kaplan is representing Edith Windsor, the 83-year-old widow from New York who is challenging the constitutionality of DOMA. Windsor was married to her partner Thea Spyer in Canada, and when Spyer died in 2009, Windsor was required to pay more than $363,000 in federal estate taxes on her inheritance of Spyer's estate. If their marriage had been recognized in the same way that same-sex marriages are recognized in the United States, she wouldn't have had to pay those taxes.
Standing outside of the court shortly after the day's oral arguments ended, Kaplan said there were no surprises in the line of questioning she got from the nine justices.
"We worked very hard on this case, did a lot of practicing, prepared a lot. Fortunately, we were able to predict almost all of the questions," she said.
For now, Kaplan, like everyone else, will have to wait until the summer to find out the court's verdict on the case. Until then, she said, there's one thing that stands out as her top priority.
"I'm focused on Edie getting a decision while she's still healthy and alive. That's my focus," Kaplan said. "She'll be 84 in June."
--Jennifer Bendery
03/27/2013 4:10 PM EDT
Couple Celebrates 31st Anniversary Outside SCOTUS
HuffPost's Lila Shapiro reports:
Bonnie Quesenberry and Fay Jacobs celebrated their 31st anniversary in front of the Supreme Court on Wednesday. It would have been their 31st wedding anniversary had marriage been legal for same-sex couples back when they got together, in 1982, after meeting at a conference at John Hopkins University.

Quesenberry, a retired dental lab technician, wore small purple sunglasses, and Jacobs, a writer, wore black fleece. As the two women waited on the steps to hear how the arguments in the case against the federal Defense of Marriage Act inside the court were going, they bumped into another lesbian couple, also together for 31 years.

"We're the 31 club!" Jacobs exclaimed, holding out her home-made banner, which read, "If Gay Marriage were LEGAL Today would be our 31st Anniversary," and laughing.

"We've had congratulations said 1,000 times," Quesenberry said, as the four women all embraced. "This just couldn't be better."
03/27/2013 4:08 PM EDT
GOProud Leader: House Republicans Are 'Not Done Losing Yet'
As protesters rally in support of nixing DOMA outside of the Supreme Court on Wednesday, across the street in the U.S. Capitol, only a handful of House Republicans agree with their stance. Three, to be exact.
Jimmy LaSalvia, the executive director of the gay conservative group GOProud, said he couldn't understand why House Republicans aren't talking about the need to repeal DOMA. After all, he said, even conservatives who oppose same-sex marriage agree that the law is unconstitutional.
"At this point, I'm absolutely baffled," LaSalvia told The Huffington Post. "I don't think they're done losing yet. What do you think? I think it's because they're not done losing yet."
LaSalvia said true conservatives know the Constitution leaves issues relating to marriage and family law up to the states. In the case of DOMA, that fact is "particularly important" from a constitutionally conservative point of view, he said.
House Republicans "appear to be the only ones in America who think that DOMA is constitutional," he said. "The establishment leaders in Washington in the Republican Party are continuing to demonstrate how out of touch they are with Americans."
One shift has occurred among Republican lawmakers in recent years, from openly trashing gay marriage during speeches on the House floor to mostly just staying silent on the issue. But LaSalvia said that doesn't count as progress for his party.
"So now they've become the 'don't say gay' group," he said. "But that still makes them look out of touch because everyone else in the country is talking about it!"
--Jennifer Bendery
03/27/2013 2:41 PM EDT
Edith Windsor At SCOTUS: Marriage Is A 'Magic Word'
The 83-year-old plaintiff in the Defense of Marriage Act case spoke to media after being heard by the U.S. Supreme Court, but her remarks emphasized the human angle of her "overwhelming" fight rather than strictly economics.
Read more here.
03/27/2013 2:22 PM EDT
Moms Should Marry
WASHINGTON -- Michelle McFadden, 33, came out to the Supreme Court to advocate for marriage equality on Tuesday, but on Wednesday she decided to return with a special guest: her five-year-old daughter, Bailey.
"This is history. I came out a second day in a row to bring my 5-year-old daughter, because the issue affects her as much as it affects me and my wife," McFadden said.
Bailey held a sign reading, "Let my parents be married because they love each other and because I love them too!" while McFadden's sign read, "Kids need unconditional love, not your hate. Shame on you."
McFadden said she and her wife, who live in Maryland, married last year after 15 years together.
When asked what repealing DOMA would mean for her and her wife, McFadden replied, "Benefits."
"I'm a stay-at-home mom to our two kids, and my wife works for the federal government," she said. "I don't get her benefits because of DOMA. So the repeal of DOMA would mean I get health insurance for the first time in three years."
Bailey, when asked what she thought of being at the Supreme Court for the historic case, simply replied, "I think it's cool."
Watch an interview with McFadden and her daughter:
-- Amanda Terkel
03/27/2013 2:03 PM EDT
Longtime Couple Begins To Plan Wedding
WASHINGTON -- Jo Deutsch, 53, and Teresa Williams, 56, have been together for nearly 30 years. And on May 18, they're finally getting married.
"We have three kids, and we want them to have the same rights as all of their friends by having us have the opportunity to get married," Williams said.
The two joined hundreds of people at the Supreme Court on Wednesday to advocate for the repeal of the Defense of Marriage Act. Both were wearing pink ribbons reading, "Bride To Be."
When asked whether they ever expected to be seeing so much progress on LGBT rights, Deutsch -- who works for the group Freedom to Marry -- replied, "We never thought we'd be buying wedding dresses in our lifetime, but we've done that, too!"
Watch an interview with Deutsch and Williams:
-- Amanda Terkel
03/27/2013 2:01 PM EDT
Clarifying 'Skim Milk Marriage'
Ginsburg: "You're saying, no, State said two kinds of marriage; the full marriage, and then this sort of skim milk marriage."

— Ryan J. Reilly (@ryanjreilly) March 27, 2013
03/27/2013 2:00 PM EDT
Couple May Move To Sweden If DOMA Isn't Struck Down
WASHINGTON -- For Anna Olsson, 41, and her partner, Michelle Bailey, 46, a Supreme Court decision to strike down the Defense of Marriage Act has potentially huge consequences in their lives: It means they would get to stay in the United States.
Olsson, who is from Sweden, is in America on a work visa -- meaning she doesn't have a green card or U.S. citizenship.
"I basically have no guarantee for staying here, whereas if I were marrying a man, I would instantly be granted a green card and potentially citizenship," Olsson told The Huffington Post.
The couple came out to the Supreme Court on Wednesday morning, with hundreds of other marriage equality supporters, to show their support for the end of DOMA. Federal law defines marriage as being between one man and one woman, meaning that even couples who are legally married in their states are denied federal benefits -- such as on immigration matters.
Olsson and Bailey are currently living in Takoma Park, Md. When asked how she felt about the prospect of moving to Sweden, Bailey replied, "I think Sweden would be fantastic, but I would rather do it because I want to move, not because I'm forced out of my own country just because I want to have the same equal rights as anybody does to protect their family and their loved ones. This is what this is about. ... I would love Sweden, but I love this country and I want to stay here."
Watch an interview with Olsson and Bailey:
03/27/2013 1:27 PM EDT
Pelosi On Paul Clement Defending DOMA
@ jbendery :

Pelosi on Paul Clement defending DOMA in court: "What a stale role to play in life."