The Supreme Court is considering a constitutional challenge to the federal Defense of Marriage Act on Wednesday, and the contentious debate has drawn protesters for a second day in a row.
Members of the fringe anti-gay Westboro Baptist Church were on hand, flanked by their characteristic offensive, homophobic signs.
Two gay couples did their best to overshadow the congregation's hateful messages: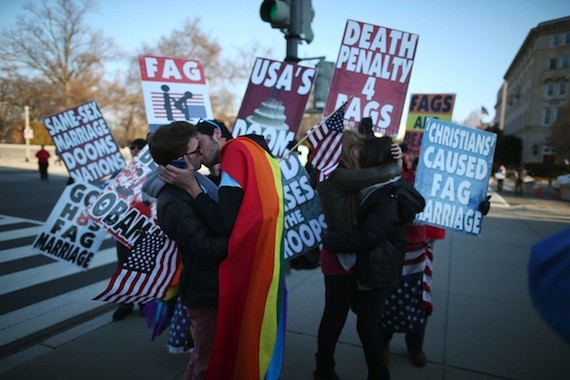 (Photo by Mark Wilson/Getty Images)
Caption via Getty: WASHINGTON, DC - MARCH 27: Two same sex couples kiss in front of Westboro Baptist Church protesters, at the U.S. Supreme Court, on March 27, 2013 in Washington, DC. Today the high court is scheduled to hear arguments on whether Congress can withhold federal benefits from legally wed gay couples by defining marriage as only between a man and a woman.
BEFORE YOU GO
PHOTO GALLERY
Supreme Court Justices