The story of army staff sergeant Jesse Knott's remarkable friendship with a little cat named Koshka is making headlines in his hometown of Oregon City and around the nation.
According to WBTV, Knott took the stray kitten in during his service in Afghanistan, and the little feline's friendship later became the greatest source of comfort during difficult times. Once Knott realized that Koshka's safety was at risk living in the war zone, he even made costly and perilous arrangements for him to be sent from Afghanistan all the way to Oregon.
According to the Clackamas Review, Knott first met Koshka in June 2010 and quickly befriended his base's unofficial mouse-catcher. When signs of neglect and possible abuse became too much to ignore, Knott decided to adopt Koshka.
Story continues after photo.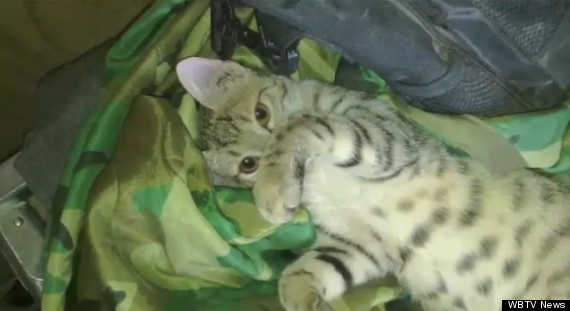 "The final straw was when I found him limping one day with a bloody injury to his toe pad and what seemed to be a possible hip injury," Knott told the Clackamas Review. Although soldiers are not permitted to keep pets, Knott made room for Koshka in his tiny office.
"Shortly after I treated his wounds, we bonded and I knew I had to keep him safe until I could find a way to rescue him," he said.
However, the moment Koshka (named after the Russian word for "cat") truly became family for Knott was when a suicide bomb attack took the lives of two of the soldier's friends that December.
"I was so devastated that I lost all hope," Knott said in an interview with WBTV. In that moment it was the little cat who let Knott know that he was not alone.
Story continues after photo.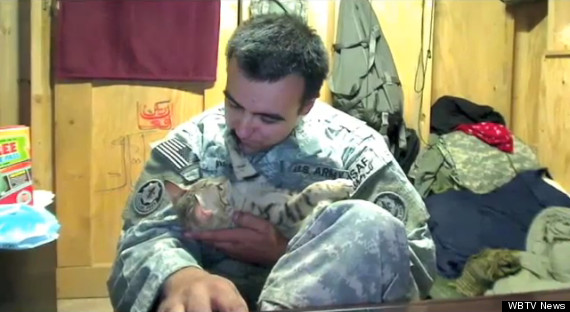 "With tears in my eyes he locked eyes with me, reached out with his paw and pressed it to my lips, then climbed down into my lap curled up and shared the moment with me," Knott explained to the Clackamas Review.
From then on, Knott's determination to keep Koshka safe was absolute. "He pulled me out of one of my darkest times so I had to pull him out of one of his darkest places," Knott told WBTV.
With the help of a local interpreter, Koshka was transported to Kabul where he began a $3,000 journey to Oregon City. But there is no question for the family that their newest addition was worth the cost.
"He was my saving grace," Knott told WBTV. "He kept me alive during that tour."
BEFORE YOU GO
PHOTO GALLERY
Afghan Cat Saves Soldier