Rockaway Beach, a Queens neighborhood hit hard by Hurricane Sandy in October, is still rough around the edges. Five months later, houses near the water look abandoned, and the boardwalk is still in shambles. But weary residents received some great news on Friday, when they arrived at MoMa PS1's VW Dome 2 next to the beach to see what was promoted as "a special performance": Patti Smith was the star of the show.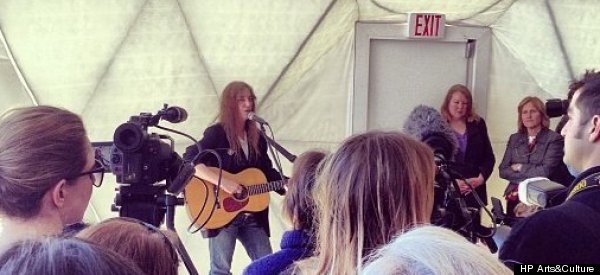 Andrea Gidder and Steve Fox, two Rockaway residents who have been living in the area since 1980, spoke to HuffPost about the large number of artists and curators who have recently moved to the area. "The community that's moved in here for the Renaissance of Rockaway has been terrific," Gidder said. "They didn't abandon us." Fox shrugged, saying, "They should've charged something and given it to the Rockaway recovery, but whatever!"
Klaus Biesenbach, director of MoMa PS1 in Queens who recently moved to the area, spoke to the audience about his last time on the boardwalk with Smith before the hurricane hit. Smith bought a house near the beach three weeks prior to the super storm, but told the audience she has "no regrets."
"We have as our backyard the sea," she said.
The legendary singer/songwriter opened with a new song, then launched into "Southern Cross" (off "Gone Again") in honor of Good Friday, and did a heartrending spoken word version of "People Have The Power" from her 1988 album, "Dream of Life." She also performed an homage to the artist William Blake, saying, "He gave us a beautiful body of work but he was obscure in his time...and kept working. [This song] is a salute to the resiliency in all of us."
From the shouts at the end of her performance, it was clear that the residents of the area were honored to have Smith as a neighbor.
PHOTO GALLERY
Patti Smith