Every stepparent remembers the moment they finally earned their stepkids' seal of approval. It's a meaningful moment -- as any stepparent can tell you, a stepchild's trust can be hard won, sometimes taking years and years to gain.
On Friday, Redditor Jedi_Hog shared his shiningest moment as a stepparent -- in meme form. Take a look here: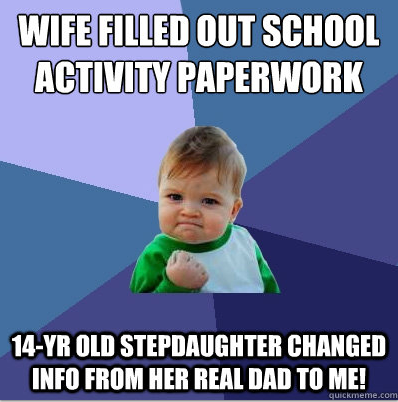 Courtesy of quickmeme.com
The stepdad's success story won over Reddit, with fellow stepparents and stepkids weighing in with their personal stories in the comments. We were especially touched by Redditor MorganaLeFaye's sweet tribute to her stepdad:
My dad is the man who raised me. I met him when I was four.

He's the one that put the band-aids on skinned knees and went to my school plays even though he really didn't want to.

He's the one who got very awkward whenever I would cry because he really didn't know what to do to fix me.

He's the man who went to McDonalds or Taco Bell when my mom was working late and he was put in charge of "making us a healthy, well balanced dinner."

He is the man who hooked the stereo speakers up to the TV when I was very young and turned our living room into a movie theater so we could watch Jurassic Park.

He is the man who walked me down the aisle and cried on my wedding day as he told me how beautiful I looked.

He may not be genetically related to me, but he is in every sense my father.
We decided to extend the love by asking our readers to share their proudest moments as stepparents. Click through the slideshow below for some of our favorite responses, then head to the comments and tell us about your best stepparent stories.
BEFORE YOU GO