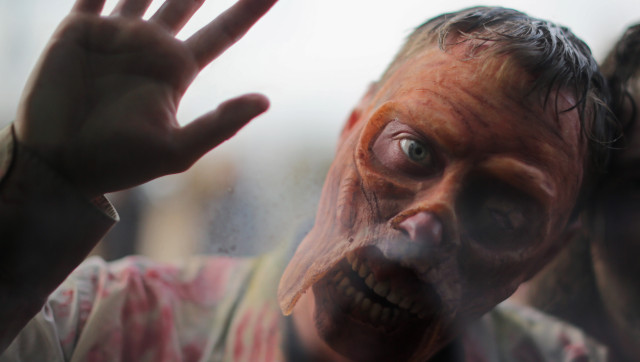 The Armand Larive Middle School in Hermiston, Ore., has canceled its after-school zombie apocalypse survival class, the Associated Press reports -- a move that could leave developing brains vulnerable should the undead infiltrate northern Oregon.
CNET.com reports teacher Rich Harshberge's extracurricular program informed students about the viral nature of the zombie disease and what to do if grandma is bitten -- but the course was really about getting students to read and write. Harshberge told the East Oregonian (subscription required) that he was able to engage students who would have otherwise ignored the material or reading assignments such as "The Zombie Survival Guide: Complete Protection From The Living Dead."
Parents who were concerned about the class's emphasis on violence and who questioned its educational value complained to the district.
Apparently, the curriculum was not approved by state officials. A statement on the school's website from superintendent of schools Dr. Fred Maiocco reads:
The use of zombie-related materials is unfortunate and was not approved in accordance with district curricular policies. We extend our regrets to anyone offended by their use.

While zombies may be a contemporary topic, the inclusion of zombie-related materials was deemed inappropriate for middle school students and has been replaced with age and content-appropriate materials.
Maiocco told Fox affiliate KPTV that he "couldn't believe that would actually be a class."
Geekier pundits have slammed the school's decision to cancel the zombie class, calling it incredibly lame and its replacement course, Exploratory Reading, a guide to how to become zombie food.
Geekosystem.com accused school officials of canceling the class in order to uphold their "sacred duty to make middle school the worst," and called out parents, too:
To the parents who complained about this course, and we presume have forgotten what middle school was like entirely, we'd like to issue this reminder: No zombie in the history of cinema has ever had the potential to be as cruel as your average 7th grader.
Looks like middle schoolers still interested in zombie apocalypse survival will have to wait and apply to colleges like the University of Michigan or the University of Baltimore -- schools that offer more advanced information on the theme.
BEFORE YOU GO
PHOTO GALLERY
Weird Things Banned At Schools