Today marks the birthday of Dutch post-Impressionist icon, Vincent van Gogh. The sunflower devotee and master of the color spectrum would turn 160 years old if he were still magically alive today.
Born in the Netherlands in 1853, van Gogh did not begin painting until his late 20s, eventually creating over 2,100 artworks in the short span of his career. From watercolors to sketches to prints, he gravitated toward self-portraits and landscapes, capturing the wheat fields of France and the sun-drenched scenes of the countryside.
Though his early works are characterized by neutral earth tones, like the 1885 masterpiece "The Potato Eaters," a trip to Paris in the late 1880s exposed the young artist to the world of the French Impressionists, inspiring van Gogh to develop his bold color palette. Pieces like "Starry Night" and "Bedroom in Arles" demonstrate his momentous leap into the brighter side of painting, revealing romantic hues like turquoise, orange and deep blue.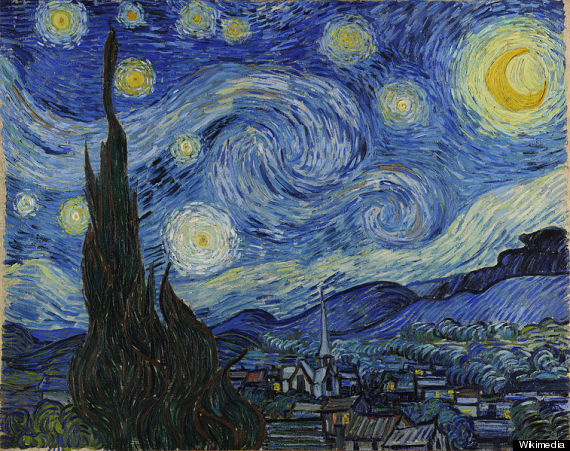 The Starry Night, June 1889, The Museum of Modern Art, New York
Of course, it's no secret that the artist, who died at the age of 37, lived a tortured life, suffering from mental health issues while failing to draw the admiration he sought from art collectors and critics of his time. He grappled with art making and friendships for years, famously cultivating a strained relationship with contemporary painter Paul Gauguin. In the last two years of his life he produced many of his best known works, such as "The Café Terrace on the Place du Forum, Arles, at Night," and steadily grew in fame in the late 1880s. Alas, his life was cut short with a fatal gunshot wound -- one that many believe was self-inflicted.
In the decades after his death, van Gogh has gone down in history as one of the greatest artist's of all time, selling at auction alongside Pablo Picasso and Andy Warhol. To celebrate the artist's birthday, we've put together a slideshow of the best modern tributes to Mr. Vincent van Gogh. From doorknob murals to portrait reenactments, the list is a light-hearted homage to a creative genius. Let us know how you are toasting the painter in the comments.
BEFORE YOU GO
PHOTO GALLERY
10 Modern Day Takes On Van Gogh