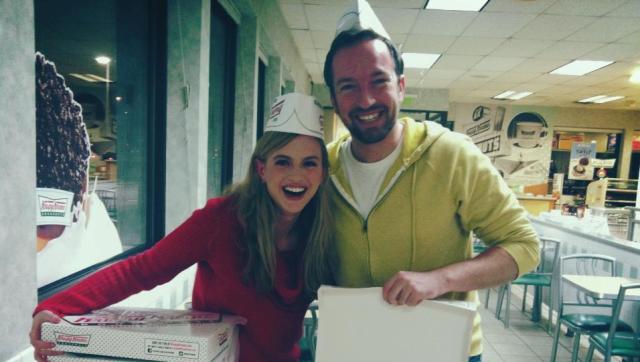 Krispy Kreme has made one couple's special day even sweeter.
On Sunday, 25-year-old David Lewis of Centennial, Colo., proposed to his girlfriend of three and a half years, Elly Steinmetz, 24. The pair started dating in 2009. One memorable day together, they ate Krispy Kreme donuts at a scenic overlook near Denver, Steinmetz told The Huffington Post.
The proposal took place at the same spot, so when Steinmetz said "yes," Krispy Kreme seemed like a fitting place to celebrate. The couple asked an employee to take a photo and ordered five donuts. But workers behind the counter surprised them with more -- way more.
"Krispy Kreme gave us a THOUSAND doughnuts for getting engaged and coming here!" Steinmetz wrote on Facebook Sunday.
Story continues after photo

On Monday, Steinmetz told The Huffington Post that she doesn't know exactly how many donuts they received, but it was more than she's ever seen at one time.
"They came with just bags and bags. And these boxes and boxes of donuts," Steinmetz said.
Story continues after photo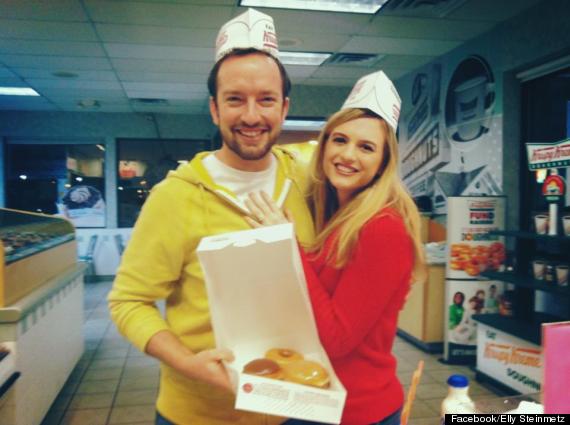 At the time, employees were cleaning up for the night, she said. Still, they stopped to personally offer their congratulations.
"It was really cool to see how happy they were for us," she said.
The couple posed for a few more photos and stopped by Steinmetz's parents' home in Littleton, where they ate what they could, drank champagne and brainstormed ways to get rid of the remaining donuts. Steinmetz joked that her father ate an entire box.
The others would go to coworkers, friends and lucky neighbors.
"I was going up and down my street giving donuts away," Steinmetz said.
BEFORE YOU GO