Picture this: thousands of thrill-seekers flooding Detroit for a summer festival of alternative sports, music and film. It's not a sure thing yet, but it could be reality in less than two years.
Working with a host of city stakeholders, Detroiter Kevin Krease, 27, and new resident Garret Koehler, 26, are hoping to bring the ESPN Summer X Games to Detroit in July or August of 2014 through 2016. Earlier this year, their pipe dream became an official possibility when the sports network announced Detroit had qualified as a potential location. On Tuesday, the pair submits an official bid.
You don't need a skateboard to get excited -- or even to get involved. Here are nine things to know:
What are the X Games?
The X Games, first organized by broadcaster ESPN in 1995, are global extreme sports competitions -- kind of like alternative Olympics for daredevils held every winter and summer. The Summer X Games include skateboarding, car racing, motocross and BMX events.
"They're individual sports. They're sports for self-expression," explained Deane Swanson, senior director of content strategy for the Global X Games. "It skews young in terms of the demographic that not only follows this, but the athletes themselves. They have really unique personalities … it's really a lifestyle of self-expression, [whether] they do it on a board or a bike or a motorcycle or a car."
But I don't do (or watch) any of those sports.
If Detroit wins the bid, you won't need to be a BMX fanatic to enjoy the X Games. Krease envisions the event becoming the city's version of the South by Southwest festival in Austin, Texas with music, film, art, beer gardens, events that highlight urban gardening and technology work in the city and more.
"Our vision for this is to turn it into a cultural event," Krease said, "use an event platform to enable the people who are doing really neat things here."
"That's been my passion, trying to find the place to bridge all the corporate investment in the city with the grassroots things happening on the ground," he said. "This is the perfect event to be able to do that."
Where would the games be held?
Krease and Koehler are working to figure that out, and things could change if ESPN became a partner. The idea is to concentrate most events downtown, with possible locations including Ford Field, Hart Plaza, the Joe Louis arena, Campus Martius and a potential permanent skate park on the riverfront.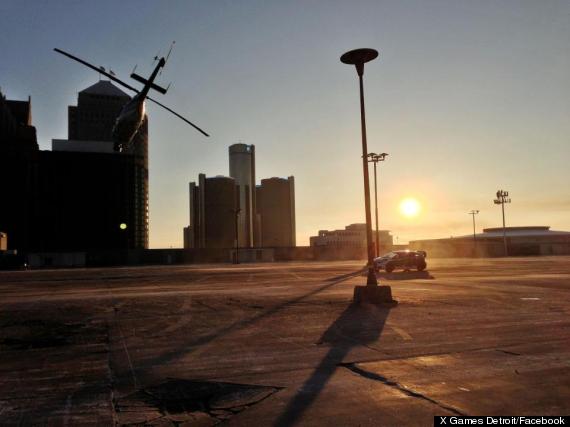 What kind of impact would X Games have on the city?
Using ESPN's formula, Krease and his partners believe the event could fill up to 129,000 hotel rooms each year. In an early estimate, they think the event might attract up to 200,000 attendees to the city, with about half of them purchasing tickets.
ESPN broadcasts the four-day event to over 260 million homes in 200 nations, so Detroit itself would be in the spotlight, showing viewers a perspective of the Motor City they may have never seen.
Does Detroit have a shot?
Because of the nature of the sports and the kinds of stadiums and arenas that already exist in cities, Swanson said there's no perfect venue for the X Games. In many ways, many bidders begin on an equal playing field. Walkability for visitors is also an important consideration.
"[The X Games Detroit organizers] have come up with an intriguing combination of venues for us to consider," Swanson said. "The thing that's very refreshing is they are open to any idea. We need options, we need flexibility. The sports we're offering today, I guarantee you by the time this event comes around they're going to change. We have to adjust and the city needs to adjust."
He said Krease and Koehler have suggested possibilities that other cities might not entertain, like shutting down city streets and reserving city parks.
"The thing you notice right away with the Detroit group is the enthusiasm and passion they have for this event. For us, that's great," said Swanson, who paid a visit to the city. "I was so impressed with the amount of enthusiasm, from the grassroots level all the way up to the corporate level."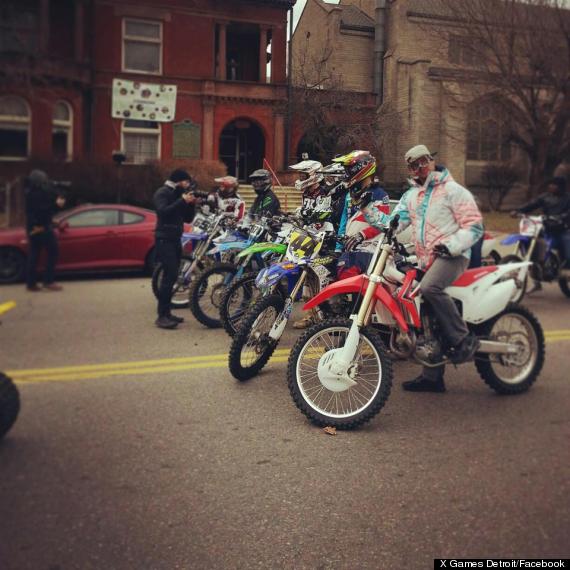 Both Krease and Swanson pointed out that Detroit might value the X Games more than another city. Truth be told, the competition may create more buzz in Detroit than a city with more events, like Chicago or Austin.
"The thing with LA is there's so much going on," said Swanson. "Where did we fit in the variety of options that people have when the weather is beautiful."
And the city's character might appeal to the athletes. "Skaters love skating in Detroit because it has nothing professional or corporate in it," Krease said. "It's sort of free and raw and gritty."
So, when do we actually find out if they'll be in Detroit?
ESPN will announce several finalist cities by the end of April and will pick a winner by August.
Detroit is up against Atlanta, Austin, Charlotte, N.C., Chicago, Detroit, Fort Worth, Texas, Houston, Long Beach, Calif., Minneapolis, Montreal, New Orleans, Pasadena, Calif. and Philadelphia.
What have organizers already been working on?
Krease began planning for the X Games bid with Ian Studders last year, quitting his job in February to concentrate on the bid. Koehler moved to Detroit from Chicago to do the same. The pair's first challenge was convincing stakeholders in Detroit, that they aren't just two young guys with an idea. Krease and Koehler are confident they can execute this massive event. They've sold themselves to Detroit, and now they have to sell Detroit to ESPN.
Teaming up with Quicken Loans, they've waded through ESPN's myriad requirements to find out what the event would look like and cost, providing estimates for everything from forklifts to athletes' medals.
The pair have received help from the likes of Susan Sherer, who engineered the bid to bring Super Bowl XL to Detroit, Paxahau (organizers of the Movement electronic music festival), and the Detroit Metro Convention & Tourism Bureau.
What's next?
Now comes the fun part, Krease said. ESPN representatives will visit Detroit personally to get a feeling for the city. They will also begin working with others in the city to plan the arts and culture events that will make the extreme sports competition a full-fledged festival.
And in the coming weeks, Krease and Koehler will release a video that will give a taste of what it could look like to hold the X Games in Detroit. Earlier this month, they brought rally car drivers in and shut down some streets to film the drivers tearing around Detroit, from Belle Isle to the Cobo roof. It's being produced by The Work, a creative advertising agency based out of Detroit.
Where can I find out more?
You can get updates on the X Games Detroit bid on their Facebook page and connect on their website.
Take our poll: do you want to see the X Games in Detroit?
PHOTO GALLERY
PHOTOS: X Games 2013
BEFORE YOU GO