Claes Oldenburg is best known for his absurd, cheeky depictions of everyday objects. The pop art king takes melting ice cream sundaes, safety pins and banana peels and transforms them into glossy monumental sculptures, interrupting our thoughts as we pass through parks and bustling intersections. With a heaping helping of vinyl or fabric, he creates the makings of his own cartoonish universe, one that's elevated public art to new, whimsical heights over the last few decades.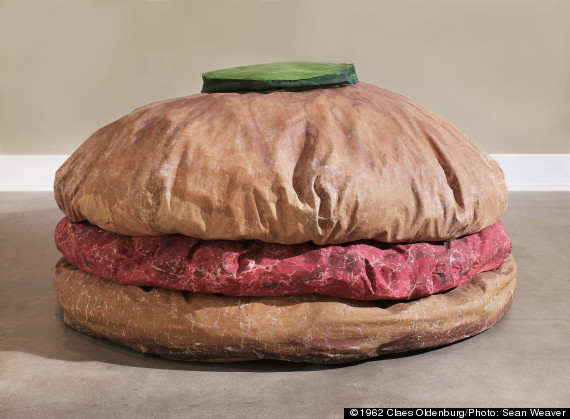 This month, a new exhibit at the Museum of Modern Art in New York is tackling Oldenburg's larger-than-life kitsch in a survey of two of his major works: "The Street" (1960) and "The Store" (1961-64). The separate, neatly packaged collections of smaller-scale works address everything from cigarettes and lingerie to hamburgers and candied apples, using cardboard, newspaper and plaster to turn mundane products into art.
In total, the exhibition will bring together more than 150 works of Oldenburg art, presented in the artist's signature installation format. If you are imagining a makeshift shop constructed on the floor of MoMA, you are probably not far from the truth, since the vintage version of "The Store" was in fact piled into a Manhattan storefront, displayed alongside a side that read "Everything must go."
Scroll through the slideshow below for a sneak peek at the upcoming show, and you can see more of his work, much of which was created with his wife and longtime creative partner, Coosje van Bruggen, on his website.
"Claes Oldenburg: The Street and The Store" will be on view at MoMA in New York from April 14–August 5, 2013.
PHOTO GALLERY
BEFORE YOU GO
Claes Oldenburg's 'The Street And The Store"
PHOTO GALLERY
Claes Oldenburg's 'The Street And The Store"