Since Playboy wasn't interested in former child bride Courtney Stodden, she took her naked body to the next logical outlet -- Girls and Corpses magazine.
The 18-year-old blonde, who married actor Doug Hutchison at age 16, covers the magazine (on sale April 15), which describes itself as "sort of like Maxim Magazine meets 'Dawn Of The Dead.'" Each issue promises photos of "beautiful, scantily clad young beauties posing with hideous, decaying, festering corpses."
On April 1, the "Couples Therapy" cast member tweeted to her following to "Check out my censored Girls & Corpses cover! Purchase it here to see me uncensored." Sadly, that was not an April Fools' Day Joke, as she promoted her magazine cover again the next day.
Wanna see more? Order your uncensored version now! girlsandcorpses.com/store/index.ht… twitter.com/CourtneyStodde…

— Courtney Stodden (@CourtneyStodden) April 2, 2013
So what drove Stodden to pose totally nude for a corpse fetish magazine, besides a desperate need for fame of any kind?
"Girls and Corpses is a silly, yet sexy magazine, which fits my personality perfectly. That's why I did it," she told E! News, adding that posing with a corpse "was definitely interesting of corpse…hehe."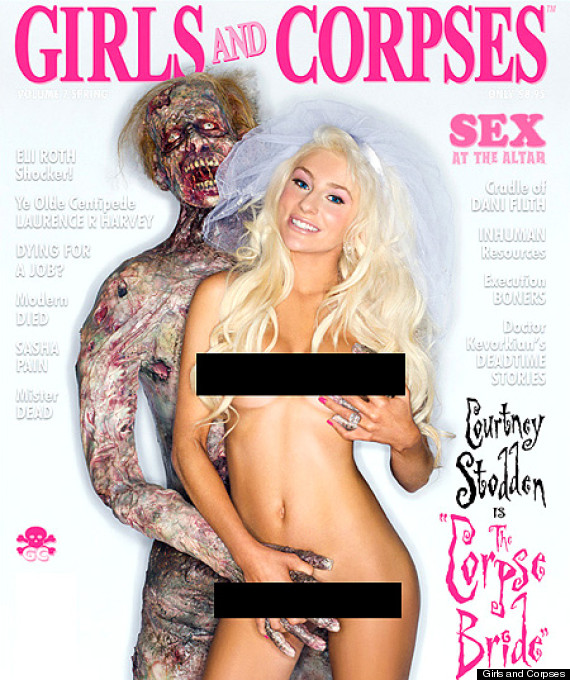 BEFORE YOU GO
PHOTO GALLERY
Celebrity News & Photos