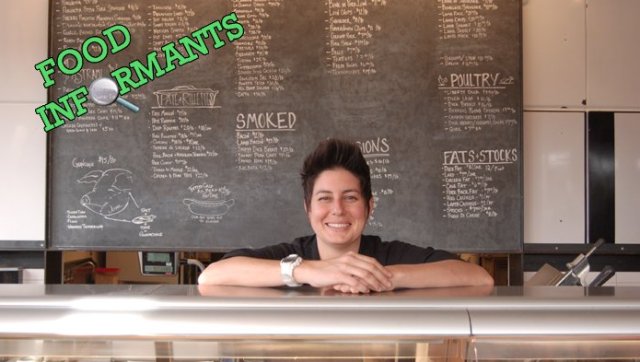 Food Informants is a week-in-the-life series profiling fascinating people in the food world. We hope it will give you a first-hand look at the many different corners of the food industry. Know someone who would make a great Food Informant? Tell us why.
Heather Bailie discovered a passion for all things meat as a young girl. Inspired by her father and grandfather's hunting adventures, Bailie learned at an early age that cooking and butchery are about mindful involvement in what you eat. This philosophy followed her throughout her culinary career. After obtaining a degree from the California Culinary Academy in 2006, she worked in Michelin one-star restaurants -- Acquerello in San Francisco and Ubuntu in Napa -- before changing course to learn butchery and charcuterie full-time. Yearning to get back to her roots, she pursued work with Toponia Miller and Taylor Boetticher at their artisanal charcuterie in Napa, The Fatted Calf.

Working at the Fatted Calf that gave Bailie her foundation for cooking, but also life: work hard, work smart, do your best, never underestimate your abilities, and then work even harder! Bailie quickly moved up the ranks; she was promoted to Kitchen Manager and then Production Manager. In 2012, she was made Director of Operations and Partner. She oversees the Fatted Calf's two retail stores in Napa and San Francisco and a team of 40 skilled meat enthusiasts company wide. Together the stores produce a variety of handcrafted salumi, sausage, pates, confits and roasts, as well as fresh cuts of pork, lamb, beef and poultry.

Monday, March 18

5:30am: The final draft of Fatted Calf's upcoming Charcuterie cookbook is done so, my business partners have taken a vacation. That means in their absence I've had to take on a few extra responsibilities for the week. I am up early reviewing and adjusting the lunch menu for the day. Today, at our San Francisco store, we've decided to turn some Riverdog Farm's green garlic into salsa verde for a roast beef sandwich and throw a pastrami pork shoulder into the smoker. In Napa, we're running our classic meatloaf sandwich and a soup with escarole, Rancho Gordo Cannellini beans and little pork meatballs.

8:15am: I rush through eating a bowl of homemade granola and head into the shop, where our new hire is laying out platters of sausage, roasts and salumi. Today, we are also welcoming a new stage to the kitchen. Introductions are made, tasks are delegated, daily inspection sheets are filled out and the production schedule is posted. The day begins officially as I count in the register.

8:45am: Our cook Nate is elbow deep in making aioli by hand. The soup and pulled pork are on the stove warming, a sherry and pimenton pork shoulder roast is tempering and bacon lardons are sizzling and bubbling in a cast iron skillet for the kale salad. It's about this time that I realize that my puny bowl of granola can't satiate my hunger for some real food. I linger around the slicer for Hector to begin shaving off thin slices of a porchetta roast for sandwiches. I can't help but grab a few for myself.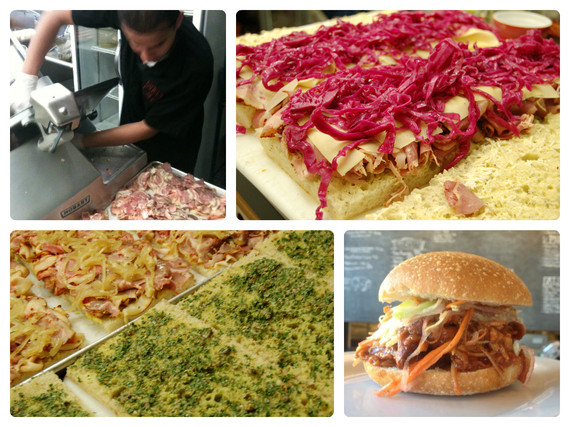 9:00am: The shop is open! David and I do a run-through and consider using the sausage in the case for a batch of meatballs. The McCormick Ranch goat shoulder will become crepinettes and the nettle butter chickens will become tomorrow's roast for the board. Nothing goes to waste -- ever!

10:00am: A conscientious customer calls in and wants information about where our hogs are sourced and to learn about humane slaughtering practices. I explain to her our commitment to only use pasture-raised, antibiotic and hormone free animals from small family farms. And without going into the gory details, I tell her how the hogs are slaughtered. She tells me she loves our bacon even more now. Aww shucks.

Noon: With bacon on my mind and now wafting through the air, I head downstairs as Hector takes a fresh batch of bacon from the smoker. I cut off a corner piece to taste... then one more, just to be sure. It is as sweet, salty, fatty, smoky and juicy as ever. A sample of our Pate Maison is also ready to taste and gets passed around the kitchen. Tasting has been elevated to a whole new level on this career path.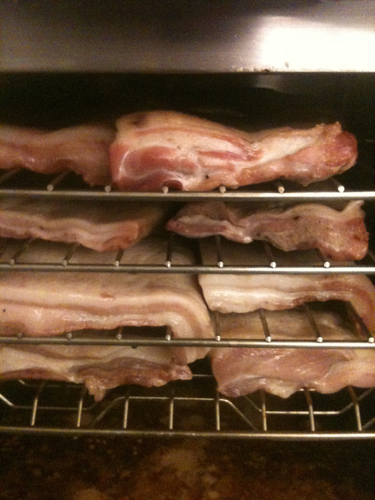 1pm: Matt, our San Francisco store Butcher Manager, calls to discuss the weekly menu with me. We're featuring Duck Crepinettes with prune and almond, Country Rib Roasts stuffed with green garlic salsa verde, Riverdog chickens in our Diavolo marinade, fresh Merguez sausage and smoked Hot Links.

3:00pm: I'm busy evaluating orders for duck with Sonoma County Poultry and pork with Heritage Foods USA while Maria is busy casing sausage and Caesar wraps crepinettes in caul fat. Willy is snipping links of dried Fegatelli sticks, Hector is preparing beets for roasting and Nate begins the never-ending kitchen inventory.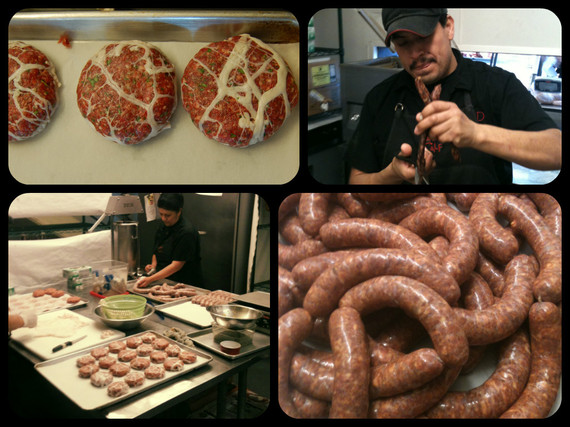 4:30pm: Emails, emails, emails... With two locations and six managers, the only way we all can really stay in the loop with each other is through email. Around this time each day, each manager begins to detail their day -- general flow of sales, special orders, any customer or product issues, orders placed, facility maintenance needs and anything else that has occurred that we all need to know about. The lunch cooks also submit their inventory and menu plan for review. Always loads of reading and replying to do.

Tuesday, March 19

9:00am: The kitchen is in steady production mode and David, Andres and Jennifer breaking down our Emigh Ranch lamb and replenishing the front meat case with leg, shoulder and loin roasts.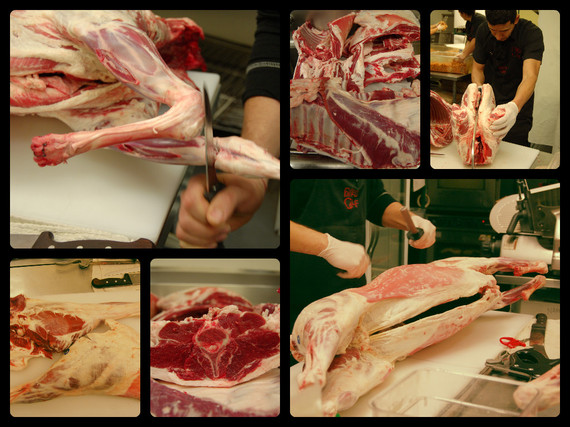 10:45am: Riverdog Farm arrives with our fresh chicken and produce order. We're all pretty excited about the arrival of Spring produce like asparagus and green garlic. Before we can get the Riverdog order put away, Luis arrives with our Liberty Ducks. We begin breaking down the chicken first. Heads and feet are wacked off and roasted for stock. Most whole chickens are halved and thrown into a brine and the rest are bagged and sent out to the case for immediate sale.

1:30pm: Our loyal customer Mike comes in to pick up his cooked Corned Beef that we started for him this morning.

2:30pm: The manager's meeting is in full swing with David, Guy, Ryan and Peter. This week's production, special orders and upcoming menu produce needs are all on the table. So is a fairly large lunch order for Saturday that needs to be confirmed. The progress of new hires, product inventory and a few outstanding maintenance issues rounds out the topics we discuss. Cutting meat is so much more fun than meetings!

3:15pm: Our Bresaola has completed its initial curing phase and is ready to be cased in beef bung. Our stage Jennifer learns how to case and tie the eye of rounds. Andres makes it look so easy.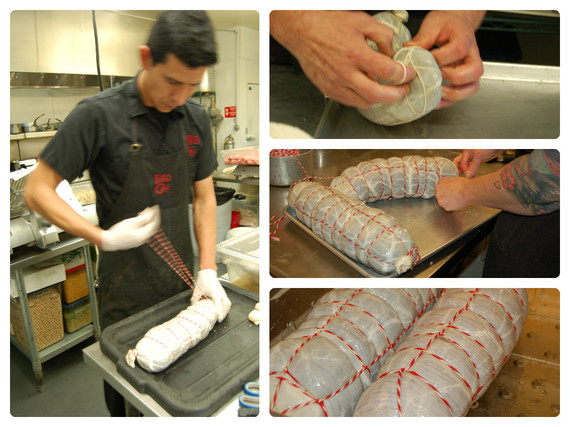 Wednesday, March 20

8:30am: Wednesdays you will find me at our San Francisco store. I get there just as the Heritage pork order arrives. Butcher stations everyone!

10:30am: Line check. I've been working with Ayla all week on the lunch menu and I belly up to her station to taste her mise en place. We discuss the appetizer options for our Butcher's Happy Hour tonight and decide on a crostini with Pate Rustique and salsa verde and fritatta with Toulouse sausage, potato and herbs -- always a winner with a local beer -- ah what's not to love about a Happy Hour in San Francisco?

1:30pm: Our evening counter crew arrives. After a quick staff meeting, Aaron will begin slicing and packaging bacon, Ren will cut down salami sticks and work on a large slicing order, Nate will package ground beef, Travis and Matt will continue to cut duck and replenish the case. I race from one station to the next keeping all on task and am feeling very lucky to have such a great crew.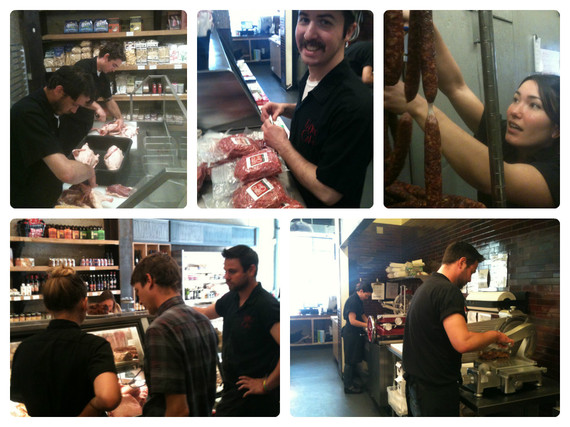 4:30pm - 7:00pm: Our weekly Butcher's Happy hour is on! Triple Voodoo brewery shows up early to let us taste some new brews. Around 5pm, customers arrive to watch us break down a side of Stone Valley Farms Berkshire hog. I custom cut a few chops and roasts right off the hog and Ren, our new butcher-in-training, prepares her first pork middle for Porchetta. Awesome job too!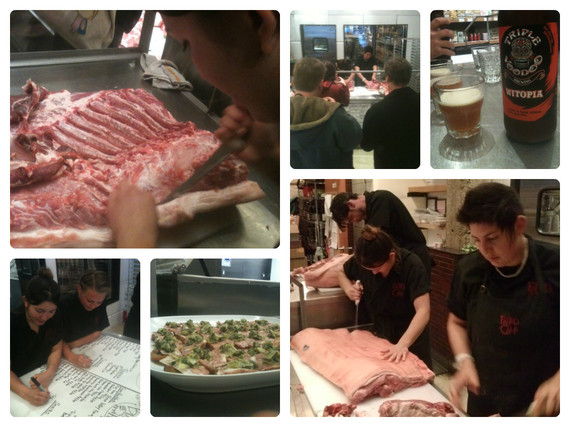 Thursday, March 21

7:00am: After checking in with both stores to make certain everything's going smoothly at the shops, I sign off until 11:00 am and practice taking a few deep breaths. Ahh, exhale...

11:00am: Today is the day we receive roughly 1500 pounds of pork that is broken down and processed into roasts, sausage, salumi, pates and other meaty treats. This is for sure our busiest production day at both locations. The menu changes every Thursday, so new roasts, crepinettes and sausage will hit the case shortly just in time for our heavy weekend sales.

12:00pm: The kitchen is busy with our cook Peter deep in preparation of a special cassoulet order. I watch in admiration as Peter carefully assembles the duck confit legs, smoked hocks, Toulouse sausage and beans into baking dishes.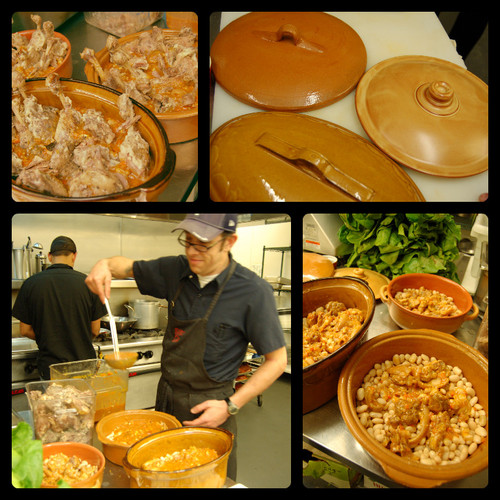 1:30pm: While checking out the curing room with David, we determine that a proscuitto I started 8 months ago could benefit from being cleaned and smeared with fat. I clean off a dry end piece and cut off a few thin slices to taste. This is my first time curing a Large Black Hog leg and I am impressed by its rich red color, marbling and nutty flavor. To prevent it from getting too dried out, I mix a little leaf lard with rice flour and smear it over the inner surface of the leg. It goes back into the curing room for another 8 months.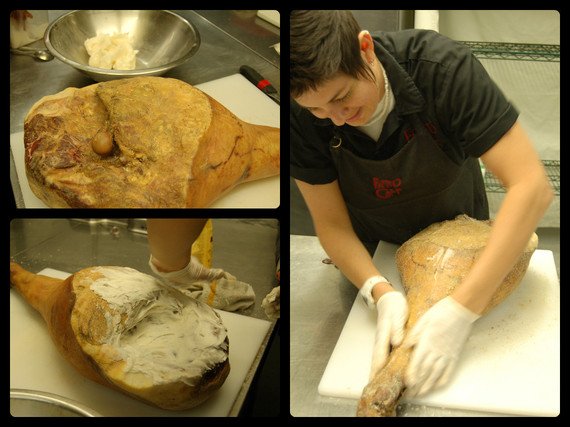 Friday, March 22

5:00am: I can't sleep. My mind is preoccupied with thoughts about the schedule for the next week at both locations, the progress of our new hires, the new format to consider for a whole hog butchery class on Saturday and some errands I need to run before my drive to San Francisco. While I pretend to sleep, Beedi and Felix, my faithful dog and cat, sense that I am very much awake and begin their harmonized whining for an early breakfast. I give in, feed them and hop onto the computer. I get the lunch menu prepped and finalized for both stores and I already feel a little bit calmer having checked off some items from my day's "to do" list.

7:15am: The first call of my day is from Whitney calling in sick. I have to shuffle the schedule to accommodate the missing staff so Chris Lohman, our San Francisco store GM, gets an early wake-up call. Sorry dude! Looks like I need to get on the road sooner than originally planned this morning.

1:45pm: Birthday celebration time for our dishwasher Olga. Some cupcakes and singing is sure to embarrass her or should our voices be embarrassing us? Instead of a cupcake, I devour a hot corned beef sandwich.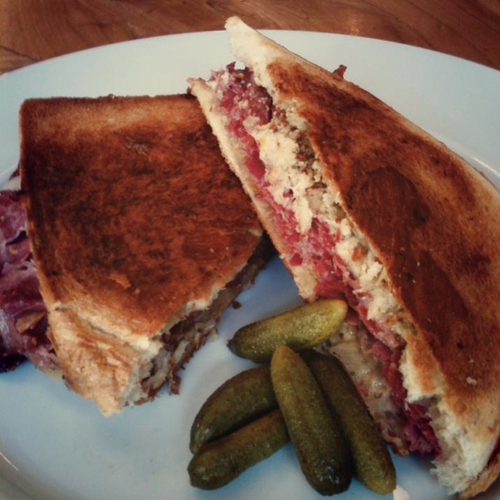 3:00pm: Meanwhile in Napa, farmers' market product is being packed into coolers and loaded into the truck. Taylor H. is learning this process and will be taking over the reigns soon. Many calls are made between Napa and San Francisco to confirm orders and cover any last minute additions.

5:00pm: I head out of the SF store on the early side to pick up a order cross town. How convenient that I wind up across the street from my favorite store, City Beer. I decide to kill some time before heading back to Napa and pull up a chair at the bar. They've got one of my favorite brews on tap today, Russian River's Supplication Sour Brown. I indulge in a short glass and resist the urge to pull out my phone to check emails. Sure enough, my smartphone begins to buzz. The Napa store is writing to request a special order lamb for Easter. McCormick Ranch is offering milk-fed spring lamb, can we get one? I shoot a quick phone call to the ranch and a follow-up with Napa. The lamb will be rounded up from the pasture early tomorrow morning and we are lucky enough to get our name on one. Since I'm placing orders, I dial in our SF store beef order with Five Dot Ranch.

7:50pm: I make it home after a brief stop at the Napa shop to drop off an order. Then, back at the desk to review kitchen lunch menus and inventory for the next day and get them sent off tonight instead of the morning. I eat a healthy salad for dinner and drop into bed.

Saturday, March 23

7:30am: Jess, Peter and I open the kitchen and begin preparing for today's class. There is a list of garnishes to prepare, knives to sharpen and equipment to gather. Peter also has a lunch pick-up for 21 people and needs a hand with making sandwiches. We all pitch in to help get the order out the door, then set up for class.

11:00am: The highlight of my week begins now! For the next three hours I teach 14 women how to butcher a whole hog in my Pig, Woman, Knife all women's butchery class. Its popularity is growing and we're actually overbooked today, hosting a mixed group of interesting women in the food industry, avid home cooks and farmers.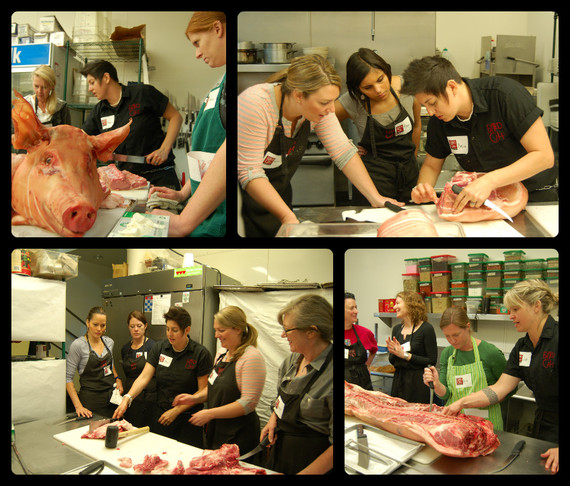 2:00pm: I chug a giant glass of water as my voice is nearly gone after talking in class for hours. I've been waiting to eat Peter's savory bread pudding all day and grab a large spoon full and take a place at the lunch table. The women in class are interested in hearing more about how I became involved with butchery and the Fatted Calf, so I tell my story and discuss my passion and mission of building community through women cutting meat. It's happening with these classes before my very eyes. Hooray! The women want more so email addresses are shared and ideas fly for more opportunities to connect.

3:00pm: There is a rush at the front counter and I hop on to assist Ryan and Guy on the floor. We're a bit short staffed for a Saturday and most of the managers are picking up regular counter shifts today. This makes for a pretty fun afternoon, because I rarely get to work with these guys side by side behind the counter -- move over bro...

6:00pm: The steady stream of customers diminishes and I steal away to evaluate the cases and inventory. We are nearly sold out of sausage. I peek at the production schedule for Sunday and see that it is already heavy with other substantial projects. Adding sausage making to the list will surely throw off the plan, so I decide to come in tomorrow and help out.

Sunday, March 24

7:00am: Sundays are usually my day off, but this week is different with my partners, Taylor and Toponia out of town, some staff shortages and too many things just needing to get done. I finalize the lunch menu and get ready to start my day..

8:45am: I take a detour on my way to the shop this morning and swing by the Buttercream Bakery for warm fresh donuts for the staff. We're saying goodbye to our former Production Manager Jess today, which saddens me greatly. She has been my sister in meat for close to two years now and she will be sorely missed.

9:30am: Jess is on the stuffer, while I pick up some of the more tedious projects on the agenda today. Duck breasts are laid onto the racks for smoking, lamb breasts are pulled from brine, dusted with five spice and the garnish for the Pork, Bacon and Porcini terrine is finished. Liza comes back to assist and I have her jump on loading the terrines with caul fat and farce.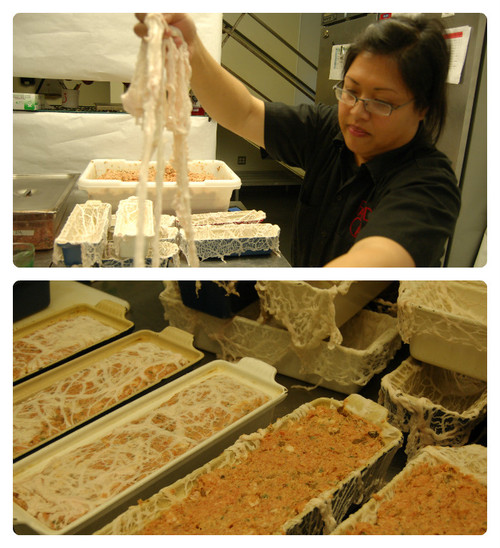 1:30pm: With Spring produce finally showing up on our farmer's order sheets, the salad on the menu is due for a change. We've been throwing around ideas for weeks and finally decide on a salad to sample. Peter makes me a salad of shaved asparagus, frissee, toasted walnut, shaved pecorino, herb vin and crispy sheets of our house-cured guanciale for lunch. Simple, clean and delicious!!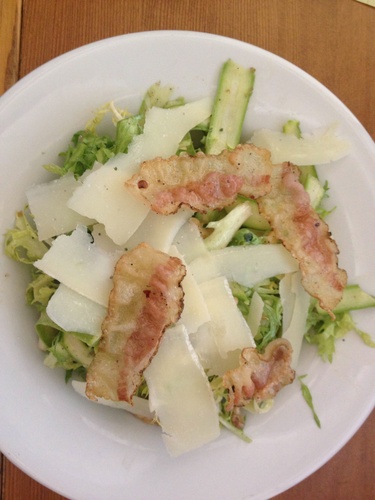 2:00pm: The week's work load begins to settle in on my weary self. I decide to leave the shop for the rest of the day, bid farewell to Jess and go home to take a very, very long nap.
See more Food Informants below:
PHOTO GALLERY
Food Informants