The defense needs to prove Travis Alexander abused Jodi Arias to save Arias from a murder conviction, and they'll try to hammer that point home Thursday, when a domestic violence expert retakes the witness stand.
In testimony Wednesday, Alyce LaViolette, a psychotherapist retained by Arias' defense team, cited two examples of physical abuse -– one that allegedly occurred in January 2008, when Alexander allegedly broke Arias' finger, and another in March 2008, when he allegedly hit her when she told him she was moving from Arizona to California.
The defense is hoping LaViolette's testimony will help dispute the contention of the prosecution that Alexander's slaying was premeditated.
The defense claims Arias cannot be guilty because she acted in self-defense and did not plan to shoot Alexander in the head, stab him almost 30 times and cut his throat from ear to ear in his Mesa, Ariz., home on June 4, 2008.
Arias, the defense claims, was physically and emotionally battered by Travis Alexander and feared for her life when she killed him.
For the prosecution, proving Arias' intent the day Alexander was killed is key to sustaining the first-degree murder charge brought by the state. Prosecutors say Arias, jealous of Alexander's interest in other women, attacked him in the bathroom of his home after the couple spent the afternoon in bed making love.
LaViolette is expected to continue offering her opinion Thursday on the downward spiral of Arias' and Alexander's relationship and, ultimately, what drove her to take his life.
The domestic violence expert is the final defense witness. When the defense finishes their direct examination she will be cross examined by prosecutor Juan Martinez before the state puts on its rebuttal case.
The defendant's fate is expected to be in the hands of the jury later this month. If convicted, Arias could face the death penalty.
The trial is set to resume at about 12:30 p.m. Eastern time with LaViolette on the witness stand.
Read below for minute-by-minute updates from court Thursday:
04/04/2013 7:34 PM EDT
Recess
The judge has called the afternoon recess. The trial will resume Monday, at 12:30 p.m. Eastern time.
04/04/2013 7:30 PM EDT
On The Snow White Testimony:
I am sat here listening to 2 grown people arguing over Snow White being a battered women! #JodiArias

— DJGarthy(@garthy2008) April 4, 2013
04/04/2013 7:28 PM EDT
More On Ms. White:
"Based on your understanding, who had the power in that relationship, the king or the queen," Martinez asked.
"Mr. Martinez you're mischaracterizing my presentation," LaViolette replied.
"What this shows us is that even if its a myth ... all made up .. you can come up with the opinion that the person is a victim of domestic violence," Martinez said.
04/04/2013 7:23 PM EDT
Sidebar
The attorneys are at a sidebar with the judge.
04/04/2013 7:22 PM EDT
A Battered Snow White Drawing Attributed To Arias That Recently Sold On Ebay: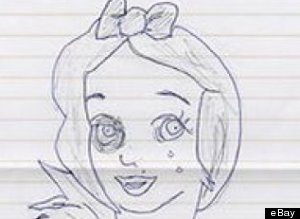 04/04/2013 7:19 PM EDT
Parallels:
Martinez is talking about some parallels between Arias and Snow White.
04/04/2013 7:16 PM EDT
More Fiction:
Martinez is walking LaViolette through the fictional story of Snow White.
04/04/2013 7:15 PM EDT
More On Ms. White:
"Snow White and the Seven Dwarfs is fictional, right?" Martinez asked.
"Yes," LaViolette replied.
04/04/2013 7:13 PM EDT
On Snow White:
"In 2010 are you familiar with putting on a seminar and indicating Snow White was a battered woman?" Martinez asked.
LaViolette said she used the name Snow White because it was catchy.
04/04/2013 7:11 PM EDT
On Her Methods:
"You conduct the interviews and then you look at other sources, right?" Martinez asked.
"I do," LaViolette replied.
The Huffington Post is live blogging Thursday's testimony. Check back here for updates.
RELATED ON HUFFPOST:
PHOTO GALLERY
BEFORE YOU GO
Jodi Arias Timeline
PHOTO GALLERY
Jodi Arias Timeline