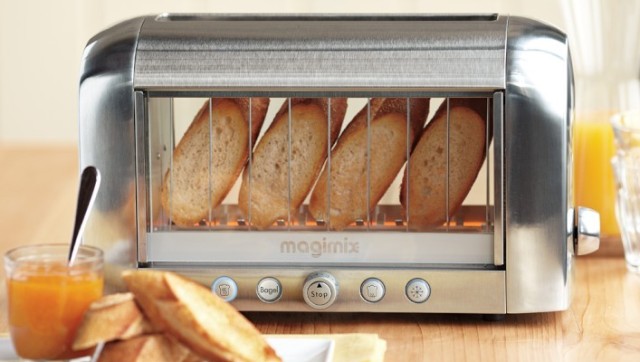 You guys know that we are wary of technological innovation in the kitchen, just for innovation's sake. We are even mildly suspicious of innovation for convenience's sake. Look, we are certainly not Luddites, but we believe whole-heartedly in the tried-and-true methods that have served us well -- fire, steel, wood, cast iron, etc. We're saying this so you understand that our excitement over this see-through toaster is 100 percent genuine and surprised even us.
The Vision Toaster by Magimix is probably one of the smartest kitchen innovations we've seen in our time living on this planet. WHY have toasters never had glass sides before? WHY have toasters never let you toast one single side of a bagel before? WHY have toasters never defrosted things safely before? We have so many questions, and the Vision Toaster has answers. The future is here and it's a toaster!
Here's the rub (isn't there always?): this thing, like most brilliant innovations in a product's field, is really expensive. Williams-Sonoma lists it as $350, suggested, with their price clocking in at $249.95. There is also a version that comes in three colors and is only $199 -- so far we can't find any discernable difference between the two aside from less chrome? So make very good friends with someone who wants to devote some of their disposable income to the integrity of your toast. We're now accepting applications for toast benefactors.
Want to read more from HuffPost Taste? Follow us on Twitter, Facebook, Pinterest and Tumblr.
BEFORE YOU GO
PHOTO GALLERY
Futuristic Kitchen Gadgets