On Thursday, Gina Crosley-Corcoran, aka "The Feminist Breeder", joined HuffPost Live to discuss debates that surround breastfeeding in public. Or, in her case, breastfeeding in (virtual) public.
In November 2012, the mom and breastfeeding advocate posted a photo on Facebook of her toddler nursing while holding a piece of bacon, and the image went viral. It also got Crosley-Corcoran temporarily banned from the social network, and was taken down by the Facebook powers that be.
(Story continues below photo.)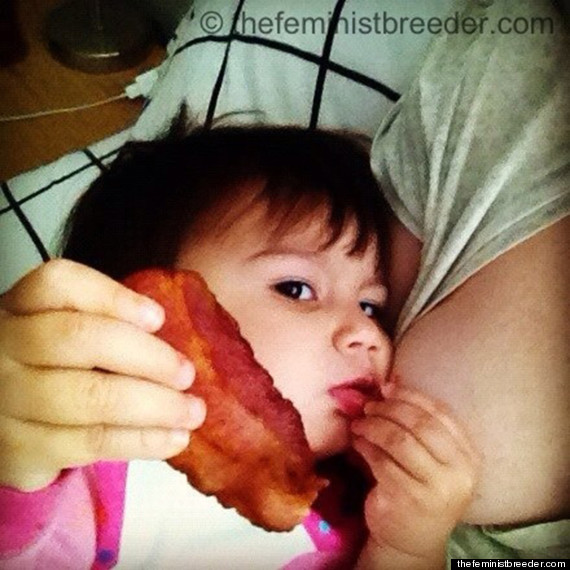 Once her account was reinstated, Crosley-Corcoran uploaded the photo again and encouraged others to post as many breastfeeding shots as possible in an effort to normalize seeing nursing images online.
On HuffPost Live, Crosley-Corcoran joined host Abby Huntsman, and three other moms -- blogger Katharine McKinney, etiquette expert Julie Blais Comeau and author Donna Highfil -- to speak out about the controversy surrounding her photo.
Breastfeeding in public is legal in most places. But, as McKinney wrote in a recent blog post, nursing moms are still widely criticized and often shamed for not covering up.
Huntsman suggested that a photo of a bare breast could be construed as sexual, but Crosley-Corcoran explained that is not a reason to hide images of breastfeeding. "I'm less concerned about how other people can pervert a situation, I'm more concerned about changing the cultural context around it ... the fact is it's breastfeeding, it's not breast-defecating, it's not breast-sex," she said.
Julie Blais Comeau didn't agree entirely. She explained that she supports breastfeeding (she nursed her two sons), but believes we still shouldn't say it's OK to nurse "anywhere, all the time, anytime." And, for her, the same rule applies to posting photos online. "We have to commend Facebook for filtering these types of pictures for everyone's safety," she said.
However, in her blog post, McKinney addressed the issue of not accepting nursing "anywhere" head on -- "If you don't support breastfeeding in public, you don't support breastfeeding," she wrote.
BEFORE YOU GO
PHOTO GALLERY
Places Moms Have Been Shamed For Breastfeeding