It's not every day a former gym teacher refuses to reveal her identity to the press. But then again, it's not every day someone unknowingly purchases an original painting by Pierre-August Renoir for $7 at a flea market.
For months the gifted thrifter referred to herself only as "Renoir Girl," keeping her true identity under wraps when recounting her unbelievable purchase to news publications. In a September 2012 interview with The Huffington Post she refused to reveal her real name on the telephone. However, due to a legal battle over the possession of the painting, "Renoir Girl" was unmasked.
The Washington Post reports that Marcia "Martha" Fuqua, a current driving school instructor in northern Virginia, is the owner of the painting. The Post included a photo of Fuqua (above) from when they happened to interview her in 2010 for an unrelated story about casinos.
Fuqua is currently trying to prove she bought the masterpiece "Paysage Bords de Seine" without knowledge of its true value or criminal past. Yet the Washington Post's profile on Fuqua casts some doubt as to the buyer's obliviousness.
The story reveals Fuqua's mother, Marcia Fouquet, as an art teacher who specialized in copying classic paintings. Stranger still is the Post's interview with Fuqua's brother, who says his mother "had [the painting] for a long time, probably 50 or 60 years." The work was stolen from the Baltimore Museum of Art in 1951, as previously reported by the Associated Press. Later the brother recanted his statement, telling reporters someone posing as him answered the interview questions and 'has been arrested.'"
We reached out to Fuqua to comment but she was unavailable at the time of publication. The Renoir painting is currently in the FBI's possession, and according to the Associated Press a federal judge in Alexandria will determine its rightful owner. Read our previous interview with the "Renoir Girl" here and let us know your thoughts in the comments.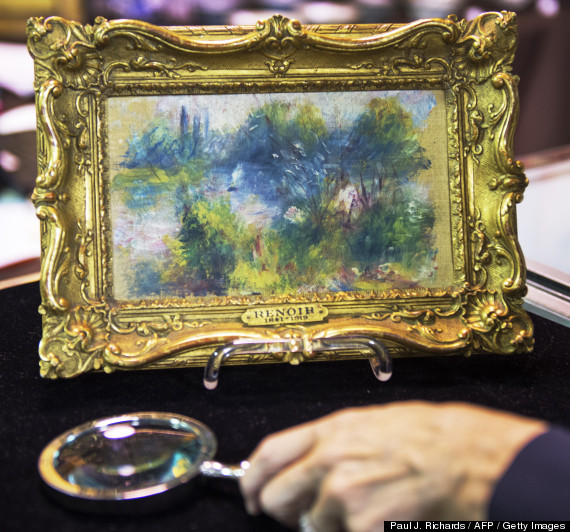 An art shopper looks at a 5.5 inch by 6.6 inch (14 centimeter by 23 centimeter) painting by French Impressionist master Pierre-Auguste Renoir September 25, 2012 in Alexandria, Virginia. The canvas which shows a scene along the Seine River titled "Paysage Bords de Seine" was scheduled to be auctioned September 29, 2012 at the Potomack Company, in Alexandria, Virginia. The Potomack Company announced on September 27, 2012 the withdrawal of the painting from the planned sale after a question was raised by The Baltimore Museum of Art on September 26, about the ownership of the painting.
See more unexpected art finds in the slideshow below:
PHOTO GALLERY
Unexpected Art Finds
BEFORE YOU GO