Despite study after study, it seems that the Sunday talk shows remain stubbornly dominated by white men--with two notable exceptions.
The lack of racial and gender diversity on some of the most prestigious political news shows on television has been noted repeatedly over the years.
On Friday, liberal watchdog Media Matters issued its latest study, which examined the guests on seven Sunday shows--"Meet the Press," "Face the Nation," "This Week," "State of the Union," "Fox News Sunday," "Melissa Harris-Perry" and "Up"--over a three-month period. The results were predictable.
The study showed how MSNBC's "Melissa Harris-Perry" and "Up" are outliers in the Sunday talk landscape, with far more racial and gender diversity than their five more traditional counterparts. Harris-Perry's program came by far the closest in reaching parity between men and women, and between whites and people of color. In fact, hers was the only show with a majority of guests of color.
Overall, Media Matters wrote, "both 'Melissa Harris-Perry' and 'Up' hosted white men in line with their representation in the general population (approximately 39 percent, according to U.S. Census data). By contrast, white men were significantly overrepresented on the broadcast and CNN Sunday shows."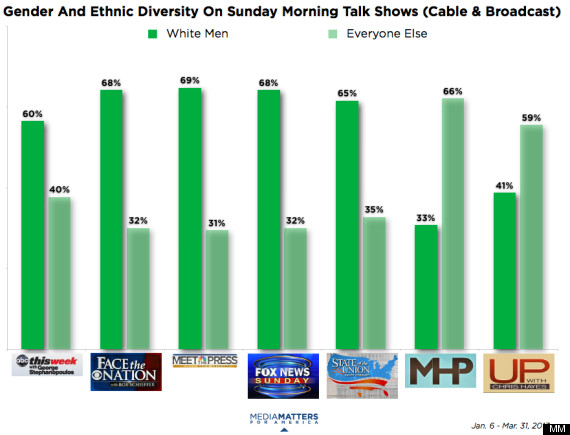 Of the non-MSNBC shows, ABC's "This Week" did better than anybody else in terms of racial and gender diversity. Still, its guests were 69 percent male and 82 percent white.
Read the full study here.